Kindergarten graduation is an exciting time in a child's life. They will be feeling proud to finish their first official year of school, so it is a perfect time to celebrate! The most important thing for your youngster will be the fun activities, decorations, and favors provided at the party. Below is a list of kindergarten graduation ideas. Try out some of these kindergarten graduation party ideas to throw your child the best party in town.
Kindergarten Graduation Party Ideas: Decorations
1. Graduation Signs
Celebrate and congratulate the little grads' achievements with colorful signs* for all your guests to see when they show up at your party. You can hang them indoors along the wall, outside your door, or even out in the yard.
2. Graduation Confetti
Spread colorful graduation cap confetti across the tables to delight your guests. You can also get confetti with the names of the grads for a personal touch.
3. Graduation-Themed Backdrops
Take photos worthy of the amazing day with graduation photo backdrops*. They are spacious enough to fit all the grad's friends, family members, and pets so everyone can be part of the celebration.
4. Graduation Balloons
What's even better than regular balloons? Graduation balloons*! From caps and diplomas to cute little graduates, you can hang these balloons on furniture, tie them down in bunches beside the beverage and snacks table, and give some to grads to bring home after the party.
5. Graduation Sashes
To mark each guest's chair, you can use graduation sashes* with their names on them and drape the sashes over the chairs.
6. School Supplies Centerpiece 
Put together your child's old school supplies in a shape of a cake for a beautiful centerpiece. Add boxes of crayons* in a circle for the bottom layer, glue sticks* for the second layer, and bottles of glue* for the top. Add a cute balloon* for the topper that says "Oh the Places You'll Go" for the kids to enjoy.
Kindergarten Graduation Party Ideas: Favors
7. Rubber Duckies
Ducks are popular toys for children, both in the bathtub and on land. Graduation ducks* are an adorable gift for the little grads. You could make it fun by letting everyone pick a duck from a kiddie pool. Put a star on the bottom of a few of the ducks and those kids get prizes!
8. Stuffed Animals with Graduation Caps
Cute stuffed animals* wearing graduation caps may just become the children's new favorite cuddly companions! From bears to owls, everyone can choose their favorite animal to bring back home with them.
9. Bookmarks for School
Bookmarks* are a must for the new grads as they go into 1st grade and beyond. They'll keep the kids motivated to learn and add some fun to reading.
10. Grad Message Pens
Give guests a pen that not only makes for a good writing utensil but also cheers on its user. The encouraging messages change with each click and are sure to bring smiles to everyone at the party.
11. Graduation Cap Party Favors Bags
Put all the favors into cellophane bags patterned with graduation caps to make the goodies easy to take home. Everyone can get bags in their favorite colors.
Kindergarten Graduation Party Ideas: Food Ideas
12. Graduation Cap Cupcake Toppers
To make cupcakes special for your graduation party, you can order cupcakes with graduation cap toppers which can be personalized to include the faces of the new grads. If you want to bake them yourself as a more budget-friendly method, you can make edible caps by placing an upside-down Reese's Peanut Butter Cup on the frosted cupcake, top with a chocolate-covered graham cracker and use a skinny piece of licorice to create the tassel. Now's the time to be creative!
13. Diploma Party Favors 
Having each child take home a personalized diploma is a special treat for each parent and will impress all your guests with the thought put behind your party planning skills. 
14. Graduation Crayons 
Crayons are an endless need for parents since that is all a child wants to do. Making these cute crayons in the shape of graduation hats is easier than you think and the cutest thing you will ever see. Simply melt your crayons* down on the stove so they become liquid wax and pour them into a graduation ice mold to give to all of your guests. 
15. School Supplies Set
Help out your guests and get their kids prepared for the next school year with new school supplies. This can include two pencils*, a box of crayons*, and two erasers* tucked inside a pencil pouch*.
16. Fruit Rollup Diploma
Buy some Fruit Roll-Ups* and unwrap them. Tie a ribbon around the chewy treat to give the impression of a diploma. You could even attach each child's name using the ribbon and construction paper. Then, call each child to receive his or her diploma. 
17. Lollipop Bouquet
Lollipops* make a sweet bouquet that you can give out to your guests. Use construction paper and glue to create small graduation caps and apply them to each lollipop. Bundle the pops together with a ribbon to give to each child. Be sure to use a variety of flavors in the lollipop bouquet.
18. Chocolate Coin Medals
As a prize for games or just for everyone to grab, you can either buy chocolate coin medals or assemble your own by gluing ribbon string to a chocolate coin*. Let the grads know they're #1!
19. Graduation Cookie Cutters
Cookie cutters* are versatile, perfect for holding small candies as well as for baking. You can get classic graduation caps and tassel cutters, along with the badge, shooting star, and trophy cutters.
Kindergarten Graduation Party Ideas: Games/Activities
20. How Well Do You Know the Grad?
What better way to celebrate the grads than by quizzing guests on how much they know about each of them? You can start with easy questions like favorite color or food, then move on to questions that are tougher to guess, like a favorite TV show or dream vacation destination. You can use templates* or make up your own questions. It'll be a great way for guests and kids to bond with each other on this special day.
21. Kindergarten, Kindergarten, First Grade
Turn the friendly game of "Duck, Duck, Goose" into a Kindergarten grad-themed party game by changing the words to "Kindergarten, Kindergarten, First grade." 
22. Guessing Jar
Fill a large jar* with pennies or small candies such as jelly beans, making sure to count them as you go. Then, have all of the children submit a guess for how many items are in the jar. The child with the closest guess gets to keep the jar and its contents.
23. Picture Frame Decorating
Set up a decorating table with plenty of graduation stickers* and markers for this activity. Give each of the kids a DIY picture frame to decorate and take plenty of pictures at the party for them to put into their frames. You can even take a group photo of all the children in their graduation caps and print copies of the photo at the party for the kids to put immediately into their frames.
24. Time Capsule
Ask each grad to bring a favorite thing from their Kindergarten years, such as a favorite painting that they did or a favorite photo of them in their Kindergarten class. Then, put all the items together in a time capsule* to be opened on their high school graduation.
25. T-Shirts Painting
Give all of the grads a plain white T-shirt. Set up shallow bowls of fabric paints* and have the kids use the paints to create handprints on each other's shirts. Then, have them sign their name underneath their handprint with a sharpie and if they like, they can also write short messages to the owner of each shirt.
26. Piñata
Kids love piñata games. Find a graduation-themed piñata like a graduation hat piñata. Fill it with delicious candies or small trinkets and hang it up on a tree. Give each of the kids a turn at breaking open the piñata with blindfolds and piñata sticks*.
27. Coloring Poster
Young kids don't love anything more than coloring. So why not incorporate it for everyone to enjoy? Try a graduation coloring poster where you can invite all kids to color together something memorable for you to keep as a memory of such a fun party.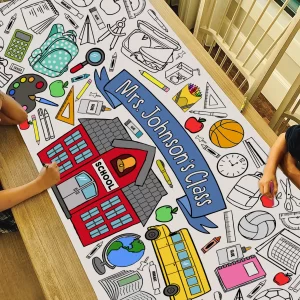 Kindergarten Graduation Party Ideas: Party Supplies
28. Graduation Tablecloth
Bring life to the table with a rainbow graduation cap tablecloth*. It'll make the snacks and beverages table a great spot for photos.
29. Swirly Straws
Purchase fun straws* with loops and swirls and crazy cups to use with the straws. Attach packets of Kool-Aid to the straws using a colored ribbon. Ecstatic kids won't be able to wait to drink their favorite drink through their new favorite straws. 
30. Graduation Plates
Make the party food picture-perfect with plates celebrating the grads. The kids won't waste a second digging into their slices of cake when they're sitting on these cheery plates.
31. Customized Graduation Mugs
Make each grad feel special by giving them mugs with little versions of themselves in graduation attire and their names. They can be used for years and will serve as a wonderful memory of their kindergarten graduation.
32. Graduation Napkins
With all the sweet treats being passed around, the kids will need something nice to wipe their mouths and clean their spills with. Graduation napkins with congratulatory words and a pop of color are great for the job.
Kindergarten Graduation Party Ideas: Invitations
33. Graduation Cap Invitation
Invite friends and family to your party with a delightful and colorful cap-shaped card. They'll be looking forward to the day after receiving their invitation. Just write your event details on the back and send them off.
34. Crayons and Grad Photo Invitation
Brighten up the faces of your to-be guests with invitations featuring a photo of the little grad and rainbow crayons. You can use a group photo of multiple grads in place of an individual photo.
35. Class Graduation Owl Invitation
If you're a teacher hosting a graduation party for your class, a cute owl-themed invitation is sure to get friends and family of your students excited to come.
36. Graduation Pool Party Invitation
If you will throw a pool party graduation on a hot summer day, a colorful pool-themed invitation is a splash-tastic way to get the word out to friends and family. You can customize the details. Spread the cheer even before the celebration begins!
37. Graduation Thank You Cards
Thank your guests for coming to the celebration with little graduation-themed thank you cards. The lovely designs will keep your party in guests' minds for a long time.
Conclusion
We can help you celebrate your kindergarten grads the best you can! Kindergarten graduation is a memorable and exciting time as the kids look back on their achievements, move onto first grade, and continue to grow.
---
Help Me Find
---
Written by: Jessica Clark, Jessica Bundy, Caitlin Connell, Elisa Sung; Contributor: Becky Smith