Throwing a 1940s Hollywood theme party is an original and fun way to get everyone feeling like a celebrity for the night! Hosting a 1940s Hollywood party is an easy idea that is sure to make for a fabulously glamorous time, and we have plenty of party ideas and tips for your '40s party planning while staying within your budget. All you need are black and white invitations, some hors d'oeuvres and cocktails, and a few old Hollywood items to have everyone leaving feeling like a celebrity! Look below for more forties event tips to make your party perfect! 
1940s Party Ideas – Decor
1. Photo Booth
What's a good party without a photo booth? Rent a photo booth from a party store and fill it with props that coincide with your theme. To make it even better you can make sure it prints off black and white pictures to be even more true to your theme.
2. Red Carpet Decor
Allow your guests to feel like old Hollywood stars by rolling out a red carpet* entrance. Have the carpet lead right into the party room, and designate photographers to snap pictures of your guests as they walk inside.
3. Dine With Hollywood
To give your party a fun and festive feel, set up life-size cutouts of golden-era celebrities all over your event venue. Popular celebrities from the '40s such as Marilyn Monroe* and John Wayne* will make your guests feel like their dining with the best and greatest of Hollywood.
4. Vintage Decorations
Decorate your party area with items significant to the 1940s era. To represent the romanticism of the time, cover your walls and tables with silk and lace. Another way to bring your guests back to the '40s is by embellishing your party area with Calla lilies*.
5. Music of the Era
Old Hollywood music is one of the best ways to get your guests feeling part of the 1940s. Rent or buy soundtracks from famous '40s movies and play some Frank Sinatra records* to provide the most authentic atmosphere.
6. World War II Decor
World World II was undeniably one of the biggest events happening throughout the 1940s, so try using that as your theme. You could put up Uncle Sam and propaganda posters, reutilize some old Fourth of July decorations, or get really creative and include Humvee and plane decorations. This is an easy theme that can be taken in many different directions.
7. Films
Since Hollywood was such an important part of the 1940s, consider setting up a projector* and showing clips from movies or newsreels from the era. Many clips can be found on the internet, and they would pair very well with a 1940s Hollywood theme. You could even try projecting your montage onto a sheet to give it a more grainy authentic look.
1940s Party Ideas – Favors
8. Cocktail Party Bag
Give your guests their very own cocktail party glass and let them take some Hollywood glam home with them!
9. Decorative Drinks
Send each guest home with a small bottle of wine or champagne. Represent the glamour of the '40s by decorating each bottle with fake pearls* and ribbon*.
10. Antique Photo Frame
At the end of the night, give each guest an antique photo frame*. Send each guest a photograph of them at the party and suggest they put that picture in the frame.
11. '40s Music
Type the lyrics of one of your favorite 1940s songs* onto a decorative piece of paper. Roll up the paper and tie a black or red ribbon around it. Give one to each of your guests at the end of the party.
12. Hollywood Garters
Add a little sexiness and fun to your party by sending each guest home with their very own Hollywood garters*.
13. Candy Cigarettes
Take all of your guests back to the old ways of Hollywood by providing them with decorative candy cigarettes at the end of the night.
1940s Party Ideas – Menu
14. Cocktail Hour
Every great 1940s Hollywood theme party begins with a glamorous cocktail hour. Designate a few people to dress in tuxedos and walk around with trays of hors d'oeuvres and cocktails. Some famous appetizers of the time were mini quiches, kabobs, and pineapple wrapped in bacon. The Martini and the Manhattan were also known as the cocktails of the 1940s.
15. Appetizers
Appetizers of the forties consisted of fish and fruit cocktails. Add flair and originality to your theme by providing each guest with a cocktail glass filled with different appetizers.
16. Entrée
Make sure your main course represents the glamour* of the time period. Some 1940s food possibilities may be filet mignon, pan-fried oysters, and shrimp or chicken salad.
17. '40s Drinks
Drinks are one of the most important aspects of any event! Keep the 1940s theme prevalent by serving sparkling wines, champagne, and gin-based drinks in their time-appropriate glasses*.
18. Desserts
Dessert, the favorite ending to every party. Some infamous 1940s desserts would be Lazy Daisy Cake, Peanut Pie, and Chocolate Cream Squares. Serve these up on some cute and festive platters to really draw the 1940's night to an end.
1940s Party Ideas – Games
19. Swing Dance Contest
A great activity that involves all of your guests is a swing dance contest. It's extremely simple to organize, fits a forties-themed party, and leaves everyone laughing for hours. (However you may want to let your guests know about the contest prior to the party – this way they'll have some time to practice!) Designate a few judges to decide who's out every round and have the contest go on for several stages. Have the last two couples compete in a dance-off for the rest of the party. Award the winning couple with a prize* of your choice.
20. Hollywood Charades
There's no better way to bring fun to events than by playing a classic game of 1940s Charades. Give your charades a Hollywood theme and only allow topics that involve movies, TV, and Hollywood celebrities. Award points* for right answers and take away points if someone is not being "Hollywood enough". Continue playing until everyone has received a turn.
21. Hollywood Trivia
'40s Hollywood trivia is one of the best activities to bring out all sorts of personalities. Trivia can take on many forms but the easiest is probably just a simple game of TV/movie trivia. This type of 1940s game consists of asking your guests a variety of questions about different movies and TV shows and then awarding points for the right answers. Another unique type of trivia involves giving each table a list of questions to fill out throughout the party. Towards the end of the night count up all the points and determine which table is the winner.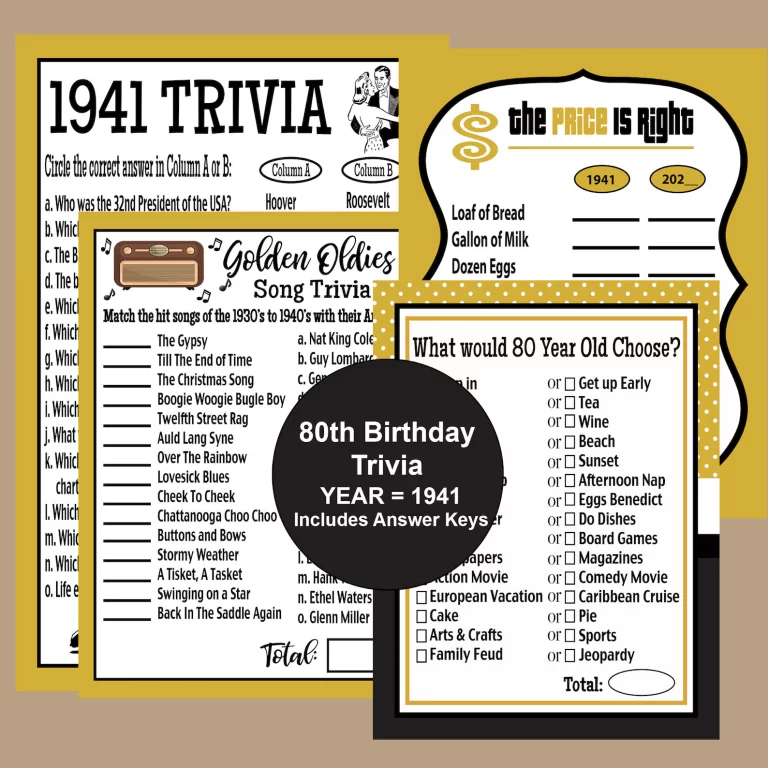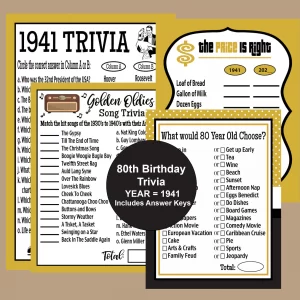 22. Pick 40
Hide 40 small objects around the party location. While guests mingle about have them looking for the objects. At the end of the party, find out who found the most and they win a prize.
23. Decade Pictionary
Select famous actors/actresses, movies, music, and other 1940's pop culture references for a fun game of drawing. Place all the ideas in a festive bowl* so all players get equal opportunity for a drawing. This works with groups small and large. Teams can also be created for larger groups. Keep playing until all options are gone and give the winning group a prize.
1940s Party Supplies
24. Napkins
To really get that glamorous Hollywood feeling, cloth napkins* might make all who attend feel as though they're at an awards party. Plus, when all is over they're easily washed and able to be reused!
25. Utensils
For a classic old Hollywood feel, metallic utensils provide an easy clean-up and give that fancy vibe of the '40s.
26. Glamorous Tables
There's no better way to give your party a glamorous feel than by decorating your tables with some old Hollywood style. Use red and black tablecloths to cover your tables, and throw on some silver confetti for extra impact. For centerpieces place either an old film reel* or a bouquet of sharp red roses in black vases in the middle of each table.
27. Plates
Getting plates that fit with the red, black, and gold color scheme (or whichever one is most preferred) is a great way to create some cohesiveness at the party.
28. Flutes and Glassware
As with the 1940's Hollywood events, a party would need to have the proper drinkware. It's what sets the tone for the celebrations. Some nice flutes for sparkling beverages and other glassware for specialty drinks.
1940s Party Ideas – Invitations
29. Passport ID Card
A great way to get from one place to another. While time travel isn't possible yet. Traveling to a party is, and why not transport everyone back a few decades with getting some old passport ID cards. It's also a great way to keep track of everyone who attends!
30. Old Hollywood
If you're looking for effortless yet elegant '40s themed invites, these old-fashioned cards are the way to go. They will perfectly set up the mood of your old-timey Hollywood party while also being cost-efficient. To create these, all you need are classic black and white iconic photos of the Hollywood stars of the time. You can then just use a sparkling or metallic red marker to scrawl the party details onto the picture. Don't forget to include the theme and any dress requirements inside the invitation.
31. Ration Book
As it is the 1940's and WW2 was taking over, rations were a major part of this period. Take everyone back and give them a flashback of what it was like during this time with their own ration book invite. Might as well give them some insight on the future party.
32. Telegrams
What better way to invite some friends than through a good old fashion telegram. It was a main way of communication through the 1940s, it should still be able to work now. Might as well transport those invited to the proper decade. Remember to include any and all requirements for the extravaganza.
33. Movie Tickets
With all the glitz and glam, might as well have some invitations to match. Bring back that old Hollywood feel with some invites that showcase a premiere. The premiere being the one and only 1940's Hollywood-themed party.
Conclusion
With these 1940s birthday party ideas, your event is guaranteed to be a blast! When hosting a '40s Hollywood party, provide your guests with fun party games and activities that will get everyone on their feet and laughing the night away in the beautifully decorated venue!  Whether you're swing dancing, playing trivia, or sipping on champagne surrounded by the stars, everyone is sure to leave your party with some great memories they'll never forget. For the forties-themed party, there is nothing better! With a party in mind, you might need help coming up with some gifts, and we can help with that too!
---
Help Me Find
---
Writers: Allie Martin and Aditi Parikh; Contributor: Hannah Lindenberg