Updated on: Jul 18, 2023
Do you have a child who loves search Shopkin toys? Or maybe you're stuck on a party event this year and are in need of a great birthday party idea? Well, don't worry because below you will find some simple ways on how to throw a memorable party - that includes search Shopkin's! The ideas below feature search Shopkin birthday party ideas and themes you can work with.
Shopkins Birthday Decorations
1. Miniature

Shopkins

Pinatas
Pinatas are definitely one of the most fun items at any birthday party. First, you can order a pinata in the shape of any search Shopkins character. Next, fill it up with some candy and stickers that the kids will enjoy!
Shopkin Birthday Party Favors
2. Party Favors
Having different types of party favors is what sets the mood for a great birthday. If timing and cost are your enemies, then you can buy plain t-shirts and paint search Shopkins characters on them. Next, you should put each guest's name on the t-shirts to make them feel more welcomed.
3. Jewelry Party Favors
You have the opportunity to get creative here and the sky is your limit. If you have time, then create some necklaces and bracelets for your guests. Nowadays, almost every grocery store has all of the supplies that you need such as beads and yarn.
4. Hot Air Balloon Party Favors
If you want to add something special to your birthday party, then include some hot air balloon party favors. You can start off by buying some yellow or purple balloons. Next, find some mini baskets that you can attach to the bottom of the balloons. Finally, the outside of the baskets will need some search Shopkins stickers placed onto them. Lastly, the inside can be filled with some candy, mini toys, etc.
5. Lippy Lips Party Favors DIY
If you want to get creative you should make some Lippy Lips. First, you will need to buy certain stickers that can create some eyes, nose, and lips. Next, find some pencil holders that look appealing to you. Lastly, use the pencil holders to create the Lippy Lips character!
6. Miniature Ice Cream Treat Erasers
If you need something to place into your gift bags for the guests, then include some ice cream treat erasers. Normally, local markets have search Shopkins themed erasers.
Bath bombs are what each kid looks forward to every night. You should add some customized bath bombs to the gift bags. A lot of grocery stores sell bath bombs and you could buy whichever ones you liked. Lastly, decorate the bath bombs into different search Shopkins characters.
When you are making the gift bags make sure to include some search Shopkin bracelets. You will need to buy some beads, yarn, strings, and search Shopkin charm pieces. Lastly, create the bracelets however you would like to!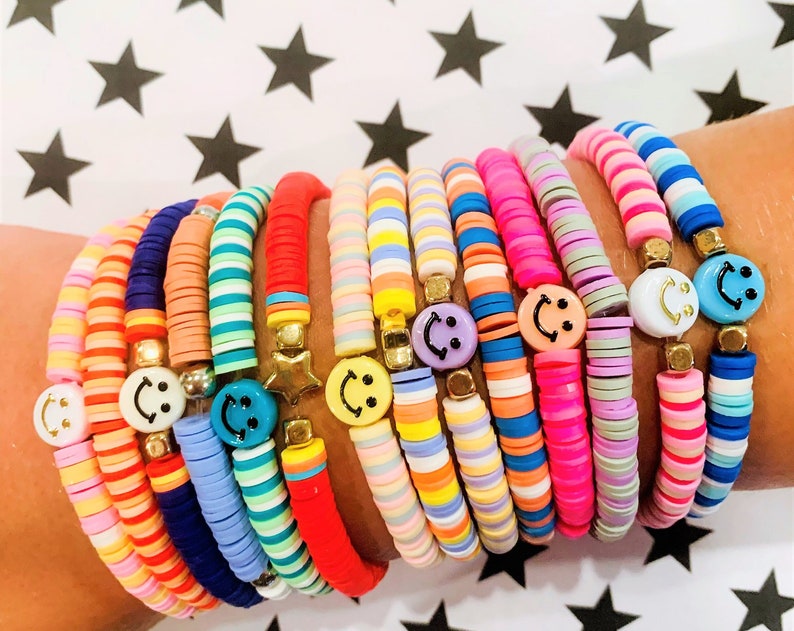 Preppy bracelet-Beach bracelet-Stacking trendy bracelet-Polymer clay bracelet
These bracelets are a great inexpensive item to buy for yourself or to gift to someone else! Our bracelets are good quality and are listed at an affordable price. They are made with polymer clay beads, elastic string, and accent beads. Your bracelet(s) will come packaged in a white organza bag with a complimentary sticker. Feel free to message me with any questions or to place a custom order! Thank you so much for visiting and hope you enjoy shopping with us! Sizing: Child- 6 inches Teen- 6.5 inches Adult- 7.25 inches * All bracelets are custom made and can be any size that you request. *No additional fee for custom orders. Just choose "custom bracelet" under the "color" drop down box. Then send us a message with your custom order. You can describe what you want or send a photo. Make your bracelet with any colors that you would like, add a name, add an initial, use any accent beads…the options are endless! *FREE shipping on orders over $35 *We pride ourselves on fast shipping! Your order will typically be shipped within 1-3 days. *Bracelets are made from a high quality elastic cord. Excessive pulling or over stretching may cause the cord to break. Do not let children put the jewelry in their mouth or play with the jewelry unattended. Keep your bracelets in a dry and clean environment to maintain maximum wear. Colors may vary slightly.
See on

Etsy
$8.00
Shopins Birthday Games/Activities
Shopkins Birthday Food Ideas
9. Kookie Cookie
You can never go wrong with having some cookies for a birthday party. Bake some chocolate chip cookies and place some edible googly eyes on them!
Grandma's Big Cookie Chocolate Chip, 2.5 oz, 60 Count
Sink your teeth into the rich, chocolaty flavor of these Grandma's Big Chocolate Chip Cookies and you'll taste the homemade feel. With 2 cookies per pack, and 60 packs per box, there are plenty of delicious chocolate chip cookies to enjoy. Stock your pantry at home, a vending machine at the office, or the breakroom with these soft, chewy cookies. Grandma's Big Chocolate Chip Cookies are great for a packed lunch, and are just as mouthwateringly delicious any time of the day. Edibles are non-returnable. For more information, visit our "Return Policy" page located on our website.Special Shipping Information: This item ships separately from other items in your order. This item cannot ship to a P.O. Box. This item may be subject to additional processing days. ITEM IS NOT ELIGIBLE FOR EXPEDITED SHIPPING
10. Googy Eggs
There is no real fun at a birthday party without some activities and games. You should include all sorts of games that kids will enjoy. There could be one activity called the "Googy Egg" station where kids design eggs however they would like to. The next game you should include is the "Egg Race" where kids balance eggs on top of spoons and whoever's egg falls off first loses!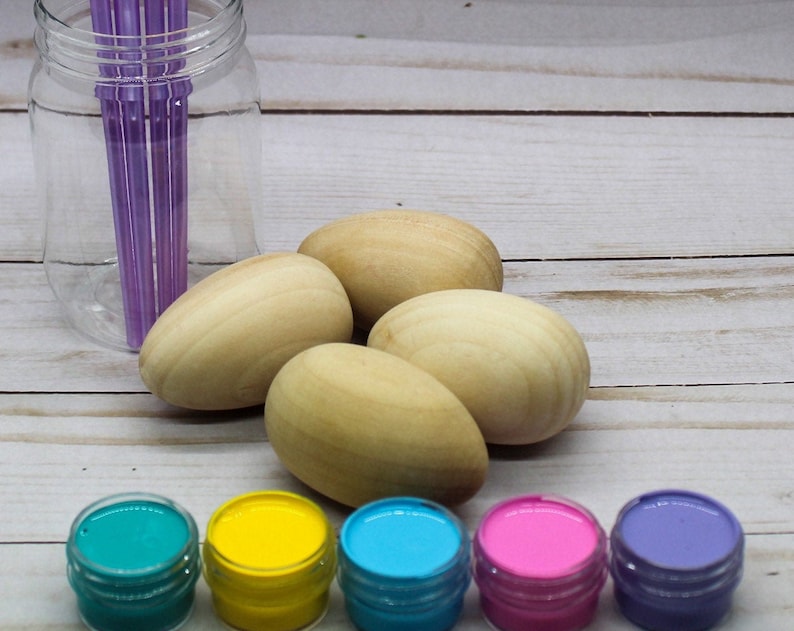 Wooden Easter Egg Paint Kit
Kit includes: wooden Easter eggs, 4 assorted paint brushes, and 5 (0.25 ounce) paint containers (three options). Measurements: Eggs are approximately 2 inches tall. Paint: The paint is acrylic and the kit includes 5 assorted colors. There are three options available 1) Easter Bunny 2) Easter Morning and 3) Easter Egg. Buyers are able to change to another option. Shipping and Processing: It generally takes us 1-3 business days to process an order for general orders. Larger orders of 50+ items may take longer, we are a very small business with limited staff. Processing time does not include shipping time. Once an item has been processed, the shipping time takes 1-4 days depending on the location of the customer. NOTE: We only have control over the amount of time it takes to process the order. Once a package leaves our facility we are no longer in control - all shipping times are estimates and may vary at the mercy of the USPS. If you need your items by a specific date, please specify during checkout by checking the "Add note to Sierra Craftwërks" box in your cart and let us know the date you need to receive your items.
See on

Etsy
$9.95
Shopkins Birthday Party Supplies
Shopkins Birthday Party Invitations
Conclusion
Trying to plan a search Shopkin theme Birthday is not easy but it's totally manageable. When you find the right ideas then everything else comes together on its own. I hope these search Shopkin birthday party ideas were what you were looking for and sparked your imagination!
Written by Razia Habib; Contributors: Jack Leduc and Rohan Chiramel