Updated on: Apr 10, 2023
35 Alluring Watermelon Theme Party Ideas
Are you planning to throw a watermelon theme party but need ideas? Look no further. We collected many fun and simple ideas to choose from. Parties typically require decorating as it is a crucial step to take. However, if you are creative, decorating yourself might be ideal, or we can help you acquire some assistance for decorating. Nonetheless, please check out the exciting list of ideas we have compiled.
Watermelon Theme Party Menu
1. Macarons
There are no seeds in this treat. Watermelon macarons could diversify your dessert table and is a delicious dessert to serve with a guest. Display the macarons on a tin pan.
2. Cake
A watermelon theme party is such a unique idea, so why not have a cake that mirrors one? Have a local baker make your themed cake. A solid-colored layer cake with green icing and assorted cake colors to match the theme could also set the tone. You could also bake your cake if you prefer to go the creative route. Add a watermelon cake topper to complete the look.
3. Watermelon Margarita
Don't worry. An adult beverage is coming right up. You can use a mix to create a flavorful drink. Mix up a watermelon margarita for guests to enjoy. Serve the margaritas in a wine glass and add a cute watermelon martini straw to dress the drink up. As a bonus, the mix has a recipe on the back to help you make the alcoholic beverage of your liking.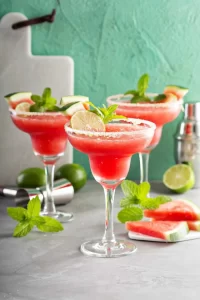 4. Cake Pops
Cake pops don't have to be boring. Get your hands on these cute cake pops. Cake pops containing watermelon elements and shapes will surely attract guests to the dessert table.
5. Watermelon Popsicles
Watermelon popsicles would make a cool treat, especially on a hot day! Pick up a few packs of watermelon popsicles at your local store, or make some using a popsicle mold.
6. Pink Lemonade
Pink lemonade is a refreshing beverage to gulp down. Gather this watermelon dispenser or pitcher to serve the guest in a theme to serve guest refreshments conveniently. A bonus of this pitcher is the extra cups that are included.
7. Fruit
It's a watermelon party. Let's bust out the watermelons. Watermelon will be a great replacement if a cake is not on the menu for your party. You can display the watermelon on a silver cake stand to give it an appealing
8. Cookies
Are you interested in a dessert other than an actual watermelon? How about yummy watermelon-shaped cookies? The design alone adds eye-catching details to the party menu.
Decorations
9. Watermelon Theme Party Balloons
Inflate enough balloons to build a watermelon balloon arch. You can include balloons that match the color scheme and throw in a few foil watermelon balloons.
10. Danglers
Another seeded idea could be a sweet watermelon swirly. Use these danglers to decorate the room or as an addition to a backdrop.
11. Centerpiece
Honeycomb watermelon centerpieces will be the talk of the party. Add them to the dining table to bring the theme to life.
12. Melon Banners
A watermelon banner is a cute decoration that any watermelon party could use. Drape the themed banner in front of a dessert table or at the party's entrance.
13. Pictures and Letters
Bring color to the party room by decorating the room's wall. Consider hanging up a picture of a watermelon. You could also have the image of your invitation blown up, frame it, and hang it on the wall. You might even want to buy the wooden letter initial of a name and decorate it to look like a watermelon. These letter signs and themed blocks are perfect if the party is for a small child.
14. Sign
A welcome watermelon sign will be a sweet decoration at your theme party. Be careful as some watermelon signs appear to be natural fruit.
15. Watermelon Arrangement
Optimize the dining table using pink and red flowers. Set the flowers in a watermelon vase for a pleasing display.
Watermelon Theme Party Supplies
16. Straws
Did you say watermelon straws? Purchase straws with watermelon prints or slices attached to them. Pick up some themed silly straws if party guests consist of kids.
17. Watermelon Confetti
Provide a unique experience and use watermelon confetti. Spread the tables with this fruity confetti.
18. Party Hat
Hand out these cute watermelon theme party printable and crown hats to guests as they enter the party. Some of the cutest hats are for a first birthday party. Attendees will love wearing their favorite fruit on their heads.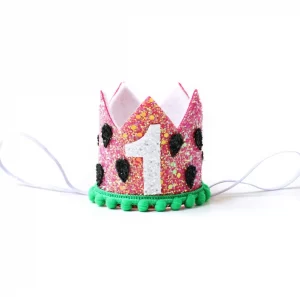 19. Dinnerware
Watermelon can become messy, so having some dinnerware on hand is ideal. There is plenty of themed dinnerware sets to choose from that have napkins, plates, and cups. Cutlery is perfect if a guest prefers to eat watermelon in small slices.
20. Tablecloth
Protect your time and table by using a tablecloth. A green solid-colored tablecloth or a watermelon theme party tablecloth can make a statement.
21. Watermelon Cups
Sipping from a mason jar, watermelon cup, or glass bottle is a picturesque theme idea on a hot summer day. Thus guests will look great sipping from their glass containers. For flair, wrap green twine along the bottom.
Watermelon Favors
21. Watermelon Fudge
Watermelon fudge would make a unique and flavorful treat in guest favor bags. Ensure guests consume treats after the party, as they may return for more.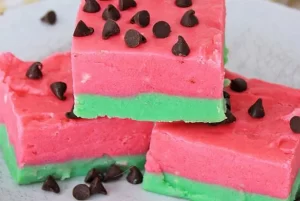 22. Bath Popsicles
After a hot day, depending on where you live, consider dropping a watermelon bath bomb in party favor bags. There are also several watermelon soaps to choose from.
23. Watermelon Pinatas
This party favor is great for a small guest list. Have the kids bring a small pinata home filled with watermelons, treats like gummy candy, and airheads.
24. Melon Stress Balls
Melt the stress away with these watermelon stress balls. Stress balls will be a perfect gift for adults.
25. Keychains
Now, where did I place my keys? A watermelon keychain would be a cute gift to any watermelon lover.
26. Melon Cupcakes
Cupcakes with pink or red icing and wrapper in a green wrapper are a sugary site to behold. Get cupcakes baked by a baker or bake them at home. All you need is green cupcake wrappers, pink or red icing, and chocolate chips. You could also use a cupcake topper if chocolate chips are not your thing.
27. Favor Bag
Party favor bags or boxes are a must-have. Gust will enjoy carrying a home gift in bags that remind them of the fun theme party they attended.
Games and Activities
28. Necklace
Set up a jewelry crafting station and craft to your heart's content. For this crafting project, provide green, white, and red beads of different sizes and shapes. String the beads and tie the ends. Turn this creative activity into a party favor.
29. DIY Watermelon Bowling
Bowling is a fun activity, but how about bowling using a watermelon? You can create the bowling lane using a white or red runway and empty cans for the pins. Adults might have a ball with this one.
30. Watermelon Relay
Split the players into equal teams and supply each group with a watermelon. Mark a start line and the halfway point so that teams can roll said watermelon to the halfway point. Once players reach the halfway point, they will move their watermelon into a circle and make their way to the start line. Repeat until all team members have gone. The first team to finish the course wins a sweet prize.
31. Watermelon Target Competition
Don't waste those watermelon seeds. Use them to play a target-hitting game. Wait until players have finished eating their watermelon, then have them collect the hard shell seeds and stand behind a marked line or cones. Place a bucket or a moving target a fair distance from players. Players can have ten attempts to throw or spit their watermelon seeds at the target. The player that has the most points wins a prize.
32. Watermelon Eat Contest
A good ole fashion watermelon eating contest will liven up your theme party. Before the game begins, put some napkins, plates, and water to rinse aside. You can challenge guess to eat their watermelon without using their hands or allow for hand use. Ready, set, go. The first person to eat their watermelon wins a prize.
Invitations
33. Watermelon Invite
These mouthwatering watermelon-shaped invites are perfect for summoning guests for your special day. You can fill in important party information and place them in their designated envelopes.
34. Cute Letter Watermelon Invites
Watermelon theme parties are popular among those turning one. Invites with watermelon elements and shapes in the letter may be the right invite for you. There is no printing of these invites, and envelopes are included. Fill in party details, and mail them out.
35. Watermelon Invite
Suppose your watermelon theme party is by the pool. Have some fun in the sun with these invites by the poolside. Edit the details on the invite and download it for instant access to it. Have the invites printed at a print store and mail them to the intended guests.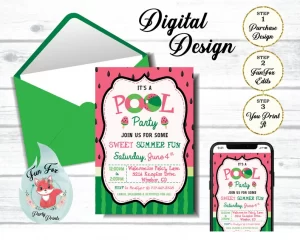 Conclusion
A watermelon theme party is a great way to celebrate any occasion, whether you're planning a summer or birthday party. The theme party ideas we gather will help embody the exciting elements of your day. Enjoy celebrating a party full of sweet and fun ideas that people can enjoy at any age.
Help Me Find:
Written by: Brittany Mathis