Updated on: Apr 16, 2023
45 Creative Wedding Program Ideas
The wedding program is vital because it allows the wedding couple to relay any unique details related to the wedding, such as traditions or requests. The program is the first time guests see the theme or concept of the wedding. Don't skip the chance to show creativity and personality with your program by choosing to have a basic theme. Maybe the wedding couple met at a music concert, or they both like to travel; either way, you can use these details to make your program memorable. If you are usually the goofy friend that always has a few jokes, make your guests laugh with the program itinerary. These original ideas will make the perfect program for your wedding guests.
Themed Wedding Program Ideas
Did you set the theme of your wedding to fit the things you love the most? Use the theme to help make a lovely wedding program idea that is best for you. Let's say that your wedding is the theme of springtime and love. Get creative with the use of springtime flowers and heart-shaped items. Do you have a hobby or an interest that most people know you for? Use those interests and incorporate them into your wedding. If your friends and family know you as a coffee drinker, utilize coffee or coffee mugs in the theme of your wedding program. Having a theme can make it much easier in finding the best way to plan out your wedding program!
1. Newspaper Program
Let your wedding be the front page of headlines! Turn your program into a newspaper theme to entertain your guests before the start of your ceremony.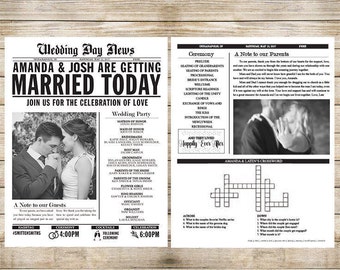 2. Picture Book
Show your guest the story of your love by making your program into a book. Include pictures of each stage of your relationship ending with the itinerary for the wedding.
3. Wedding Guidebook
So you're a field guide person? No worries, let's use this to your advantage. Make your program into a field guide for the day of activities.
4. Tissue for Your Issue
Use the pandemic toilet paper trend to give your guest a laugh. Print your program on rolls of toilet paper - like paper or make toilet paper-shaped programs.
5. Venue Map
You have spent lots of time and effort planning your destination wedding and getting your guest to travel for your special day. Use the map of your destination as a template for your wedding program.
6. Boarding Pass
Are you a train lover? Do you like to travel? Make your wedding program into a fancy boarding pass to fit your interest.
7. Music Sheets
Find a clever way to unify your love of music with your wedding program. Use a sheet music template for the program and roll it up for an added effect.
8. Playbill
Make your program into a playbill bill theme that will be perfect for a play-themed wedding or if the bride and groom share the same theater interest.
Tossing Material Wedding Program Ideas
Help your guest celebrate your newlywed send-off by giving them tossing material for your grand exit at the ceremony. Whether you decide on rice or confetti as your material, you can display your wedding program on the packaging for the tossing material and your guest will be blown away. It will be efficient for you to knock out both the responsibility of the tossing material and the wedding program by including them with each other. Make sure to include a section where you tell your guest their queue to toss in your wedding program. Your guest will be very impressed as they read your program and wait for their moment!
9. Rice Mason Jar
If you plan to have your guest throw rice for your bride and groom send-off, incorporate the program on rice-filled mason jars. You can choose to print sticker labels for the jars or have the program printed onto them.
10. Fortune Teller
Paper fortune tellers have a tasteful but organic look. Print your program details on the fortune teller sections and tie tossing material in them.
11. Origami Pyramids
Are you a fan of origami? Print your program on pyramid origami shapes and fill them with rice or rose tossing material for guests.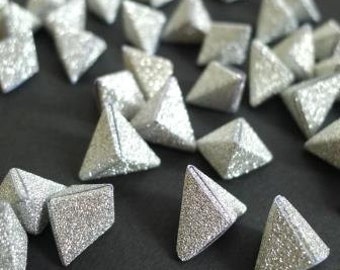 12. Flower Satchels
Use small satin pouches and fill them with flower petals. Place your itinerary on small business cards and place it in with the petals.
13. Confetti Bags
Use transparent paper bags, fill them with colorful confetti, or tear different colored papers into bits. Print your program on the transparent bags, or place your program on labels to stick on the bag.
Timeless Wedding Program Ideas
Does your wedding have a vintage theme? Do you like the look of a rustic style? Try these simple but traditional wedding program ideas to fit your classic wedding. Print your wedding program in black and white to give it even more of a romantic effect.
14. Scroll and Wax Seal
What better idea for a historic wedding than printing your program on a scroll? Go a step further with a wax seal custom to fit your wedding.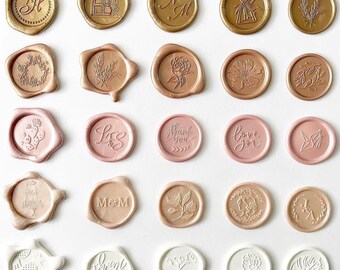 15. Rural Program
Make rural-themed programs by printing them onto distressed paper and tying them together with hemp ribbon.
16. Paper Planes
Bring your guest nostalgia by making your wedding program into easy paper planes. Give a more rustic look by using vintage-style paper for your planes.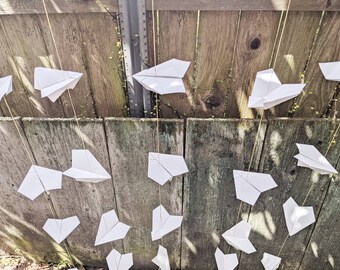 Fan Wedding Program Ideas
If you are planning to have your wedding in an outside location, a great wedding program idea would be turning the programs into fans. Your guests will appreciate that you thought about them when it comes to your wedding. The last thing that you want is for your guests to feel uncomfortable because of the setting of your wedding, so these fans are a perfect idea!
17. Woodburn Fans
If your wedding venue is outside or in a humid location, consider putting your program on paper fans. Add a unique touch by having a custom Woodburn design for the fan post.
18. Rafia Fans
Your wedding program will be a keepsake memory with a frilly rafia fan attached to it. Guests can use the fan as a decor piece or keep it for memory.
19. Heart-shaped Fan
Print your ceremony program on a lovely heart-shaped fan. Hearts will fit the theme of any wedding, and guests will be happy with the fan.
20. Panel Fan
Turn your wedding program into a 6-panel fan. Each panel can have either wedding details, itinerary details, or pictures of the bride and groom.
21. Hand Fan
Is the bride or groom a hand fan collector? Print the wedding program on the fan panels so when the fan opens, you can read the itinerary.
Refreshment Wedding Program Ideas
Let's be honest, your guests may love you and your spouse, but they might love food even more. The most creative wedding program ideas that you will be memorable for your wedding involve food or drinks. Your guests will be very grateful to know that you considered them when you planned your wedding ceremony by providing them with a little snack while they witness your love. You can print your program onto anything, so why not think outside the box with these food ideas! This idea has to be the most fun, so enjoy yourself as you make them so they will be just as memorable to you as they are for your guests.
22. Printed Cookies
Have your program printed onto iced sugar cookies. Your guest will be blown away at the creativity of edible programs, and I'm sure they would appreciate the snack.
23. Ceremony Snack Pack
Fill brown paper bags with refreshments like bottled water, trail mix, and candies for guests during the ceremony. Your wedding program can be printed on brown paper bags to make ceremony snack packs.
24. Popcorn Bucket
Make your wedding ceremony a movie and serve your guest the popcorn. Print your program on old-fashion popcorn cartons for all your guests to see.
25. Drink Label
Make a sweet drink like lemonade or punch for guests during the ceremony. Attach the itinerary along with a straw to each bottle.
D.I.Y Wedding Program Ideas
Avoid the high fees in having a professional print your wedding programs by simply just making them yourself. You can get very creative with these wedding program ideas because now you have the opportunity to add your personal touch. Guests will love that you used your own hands to make something memorable. Because these program ideas are D.I.Y. you can double your wedding program as take-home gifts too.
26. Flower Pot
Print your wedding program on small flower pots and plant the flowers from your wedding bouquets into the pots. This unique idea will double as takeaway gifts.
27. Program Handkerchiefs
Use iron-on transfer paper to create elegant handkerchiefs that display your wedding ceremony program. Plus, you never know if your wedding will get a little emotional.
28. Decorative Clipboards
Decorate small clipboards with your wedding theme or color scheme and attach your ceremony program.
29. Printed Mask
Keep everyone at your wedding safe by printing the wedding program on a mask for each guest.
30. Cement Heart Paperweight
Use heart-shaped silicone molds and cement to make decorative paperweights. Place your wedding programs in the seats of each guest along with each heart paperweight.
31. Placesetting
Decorate wooden clothespins and use them to clip on the back of each chair. The program can act as a placeholder as well.
Wedding Program Display Ideas
If you want to cut down on some of your workload for your wedding, consider having a big display of your wedding program for your guests to see. These wedding program ideas will be great for wedding ceremonies that have a lot of guests attending them. Make your wedding program display fun and make it a selfie picture stand too. You will be happy with the pictures.
32. Mirror Display
Take a huge wall mirror and frame and write the program onto, or have the program printed and stuck to the mirror. Display the mirror on an easel for guests to see. You can even add balloons or flowers to fit your wedding setting.
33. Closet Door
Utilize an old folding closet door to display your wedding program for all your guests. Attach vertical chalkboards to the door panels and hire a chalkboard artist to give it that unique look.
34. Vintage Vanity
An old vanity dresser can play a creative role in the wedding itinerary. Write the program on the vanity mirror and decorate the dresser with flowers and balloons.
35. Driftwood Display
If you are having a beach wedding or relate to the outdoors, consider having a driftwood post. Find or create pieces of driftwood and paint details of the ceremony program onto it. Connect these driftwood pieces to your wedding color scheme and hang them onto a related post.
Easy Wedding Program Ideas
I know that if you have planned your entire wedding, you are looking for a more simple way to "wow" your guests with the wedding programs. These easy tips will help you find the perfect wedding program idea for you without having to do a lot to get unique results.
36. Program Bundle
Make a 3 in 1 program package for the guests, including the ceremony itinerary, a seating card, and a thank you card.
37. Watercolor Template
Consider using watercolor designs for your wedding program template that fit your color scheme. The program does not have to follow the traditional black and white design; Give it some life!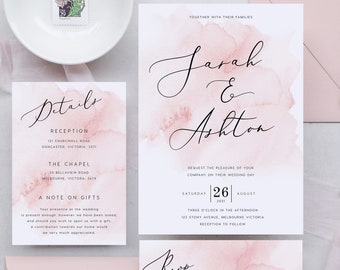 38. Wedding Party Shoutout
Honor the ones most close to you by mentioning them in your ceremony program. Use silhouettes for each wedding party member along with their name and relation to the bride or groom.
39. Angled Print
Stay simple yet unique by angling the text on your wedding program.
40. Chalkboard & Flowers
Use a chalkboard template with a vibrant floral border. This template is perfect for teachers or gardeners.
41. Furry Family
If your furry family cannot join you at the ceremony, incorporate them into the wedding program with pictures of them or mention their names.
42. Memorable Scent
Give your guest a hint of cologne or perfume when they get their wedding itinerary. You can choose the best scent for your wedding theme or something that will add a graceful touch to the programs.
43. Illustration
Use clipart in your wedding program with symbols for each step in the itinerary. This idea will make your program more playful and give you a chance to do something more original.
44. "Gone But Not Forgotten"
It's always hard when a loved one is not around to share your big celebrations and accomplishments. Honor that person by including them on a memorial page in your wedding program.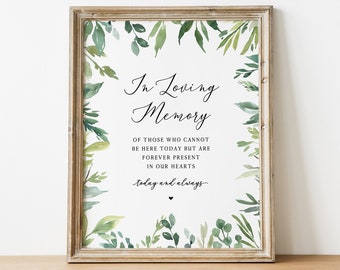 45. Brochure
Make your ceremony program a brochure-style fold to organize each section of the program and allow guests to read it easily.
Conclusion
Consider your wedding program to be the first greeting from you to your wedding guest. Make the program a big deal by switching the style and adding personality. Follow these wedding program ideas for some helpful tips on how to wow guests with the program itinerary.
---
---
Written by Talia Womack