Updated on: Jul 19, 2023
So, you're turning thirty and want to ring in this exciting new decade in style; right on! We have cool 30th birthday party ideas (for her and him!) to fit every budget and lifestyle -- whether you want to keep it low-key and light on the pocketbook, or whether you want to pull out all the stops! Either way, these 30-year-old birthday party ideas can help you throw a one-of-a-kind, unforgettable beginning to your dirty 30 birthday. Not only can we help you with general birthday party ideas but we also offer help with handmade decorations, favors, and gift ideas! We also have other resources like an expense worksheet that can help you stay within your budget.
30th Birthday Party Ideas
1. Spa Weekend
If you're like many embarking on their thirties, you've started a career and/or a family, both of which can be rewarding -- but draining. Turning thirty is a perfect excuse to treat yourself to a relaxing, rejuvenating weekend. Even better if you bring a few of your besties to enjoy the time.
There are bound to be at least a few options near where you live, whether they be high-end spas or more rustic retreats. Either way, the point is to take a breather. You can soak in a hot tub, get massages and hot rock treatments, enjoy a few cocktails, or meditate. Most of these places offer a wide menu of options for helping you kick back and get centered.
2. Bed and Breakfast
Maybe for your 30th birthday celebration, you want to get away but don't need all the frills offered by spas. You could find a local bed and breakfast. And not just any AirBnB; find a place that is truly cozy and offers a nice breakfast or brunch. You can research online for places with the amenities you are looking for, whether it be a fireplace, a pool, or maybe a nice mini-library.
You may want to find a place with a quaint little town nearby. Depending on how far you want to travel, the options could be limitless. But most areas within our country have at least an option or two nearby. And it could be low-cost too! You could also go on your own for some solitude, or bring some dear friends along. This is another great way to reset before a new era of your life!
3. Horseback Riding
Whether you are an experienced professional or have never ridden a horse in your life, your 30th birthday is a perfect opportunity to give it a try. Go on a horseback riding session and celebrate this special event with a horse riding ornament.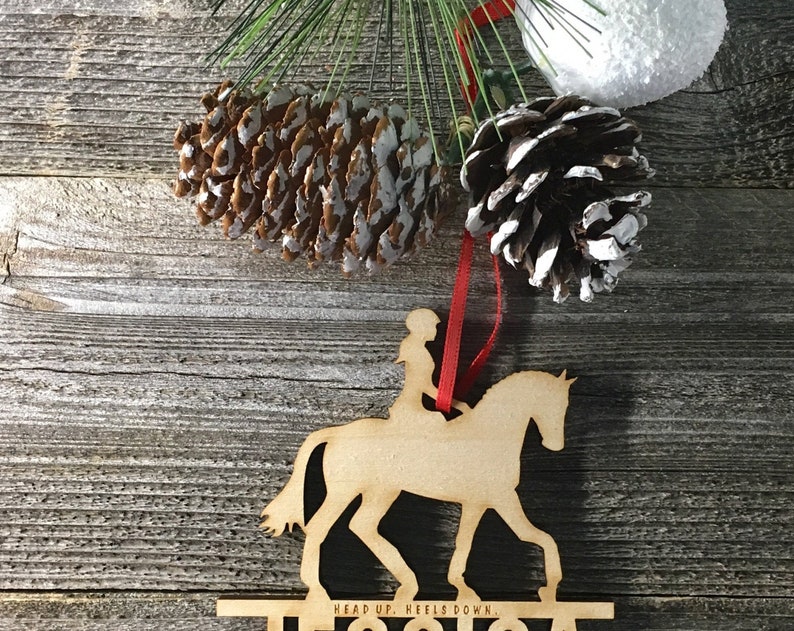 Personalized Horse Ornament, Equestrian Horseback Riding Ornament, Girls Christmas Ornament, Horseback Rider, Personalized Equestrian Gift
This sweet Personalized Horse Ornament, Equestrian Horseback Riding Ornament will make the perfect keepsake to remember this Christmas! All designs are made to order and fully customizable, if you would like to change or tweak the wording please include the requested text in the "Notes to Seller" section at checkout. Each ornament is hand made to order and laser engraved and cut from 1/4 (0.25", 6.35mm) high quality solid wood just for you. Each ornament comes ready to hang with a satin ribbon and a gift box. Due to the nature of the wood, color and grain patterns as well as small unique markings can sometimes be visible; each design is unique and no two ornaments will be exactly alike! >> Please leave your personalization how you want it to appear on your ornament. >> Please double check your shipping address, spelling, date, and grammatical errors. I offer more personalized Christmas ornaments, https://www.etsy.com/shop/AnchorGiftShoppe?section_id=27233911
See on

Etsy
$10.99
4. Great beer party
A great beer party with families and friends is another creative idea to welcome a new page in your life with many desires and ambitions. A variety of delicious and cold beers in nice glasses, lots of fresh fruit, and a few side dishes will make this party richer and more enjoyable than ever.
Classic Premium Beer Pint Glasses 16 Ounce – Set Of 6 Highball Cocktail Mixing Glass – Perfect for Cold Beverages, Soda, Water - Used in Bar, Restaurant, Pub
16 oz. PINT GLASSES set of 6 classic beer glasses.
PREMIUM GLASS – This high quality, crystal clear highball cocktail glasses are dishwasher safe what makes them perfect for everyday use at your house or party.
STURDY BASE – heave base protects the glasses from tipping over. Easy to grab and grip for bartenders and servers thanks to small bottom diameter. They are 6 inch tall.
TAPERED DESIGN – classic shape tapers towards the bottom. Perfect for serving drinks, traditional cocktails, favorite soda or any cold beverages.
MULTI-USE – all purpose serving glasses can be used as a shaker for colorful drinks in many pub, bars, restaurants or hotels.

See on

Amazon
$22.95
5. Take a Wine-tasting Tour
Turning thirty represents reaching true adulthood and all the sophistication that comes with it. Why not celebrate with something equally refined? Even if you don't live in Napa Valley -- or can't afford to make a trip out -- you can usually find a few wineries nearby. If it's a nice day, you can take a stroll through the vineyards. You can plan to visit a few in one day, depending on your time frame and pace.
In fact, there are wine trails in many areas of the country with plenty of research posted online. Some in fact offer guides who will point you in the right direction and provide tips to make the most of your experience. You can also hire a driver to take you around in a fancy car!
If you would rather stay in the comfort of your home, create a wine tasting party at your house. Buy a couple of wine bottles and cover up their labels with wine bags. Invite family and friends over and enjoy a relaxing night with good company.
Burlap Wine Bags Wine Gift Bags, 12 Pcs Wine Bottle Bags with Drawstrings, Tags & Ropes, Reusable Wine Bottle Covers for Christmas, Wedding, Birthday, Travel, Holiday Party, Housewarming, Home Storage
🍷VALUE PACKAGE: 1 package consists of 12 burlap wine bags and 12 pieces of rectangular heart shape hollow gift tags, blank-designed craft paper tags, elegant for love or wishes, with a 10-meter-long jute rope, this combination can meet all your wine wrapping needs. You can hang the tags on bags with attached jute rope.
🍷PREMIUM MATERIAL: The natural burlap fabric materials make the wine gift bags more breathable, durable, reusable and eco-friendly. Jute with tiny holes has good moisture absorption and air permeability function, allow air to circle and avoid the growth of bacteria. The liner fabric keeps the wine bottles away from dust with the drawstring.
🍷PERFECT SIZE: The burlap wine gift bag measures approximately 5.9 x 13.78 inch/15 x 35cm, accommodates a regular sized 750ml wine bottle and most burgundy bottles, champagne bottles. The wine bags can also hold other things.
🍷DRAWSTRING DESIGN: Each wine bottle cover comes with built-in drawstring, which make it easy to close and open, convenient for wine bottle storage or other similar shaped gifts wrapping or packing.
🍷VERSATILE: Suitable for package wine bottles and Champagne bottles, not only protect them from dust, but also make it looks great. The wine bottle bags can also work as gift bag or wine decoration. Perfect for home storage, visiting, parties, wedding ceremony, anniversary, birthday, bridal shower, housewarming, travel, holiday celebration family reunion, Valentine, Christmas, thanksgiving, new year and other festivals.

See on

Amazon
$12.99
6. Visit a theme park
You may, however, want to celebrate in a more youthful, family-friendly way. An amusement park can be just the "ticket!" Maybe you want to go all out and book a stay at Disney World, Disneyland, or Universal Studios. Or you could find your nearest Six Flags. If that is too far away, you can still usually find some great roller coasters in or near your own county.
Sometimes the food is the big draw, with an assortment of fried offerings like funnel cakes and sweet treats like candy apples, caramel popcorn, and other delicious fares. The games can be a nice diversion if you are competitive and/or well-coordinated. You and your friends/family will have the time of their lives! You can think of it as one last youthful hurrah before your thirties. Or just a fun way to celebrate such an important birthday.
7. Throw a Gatsby-themed soiree
You may prefer to keep your partying indoors. You can still keep the booze and sophistication with an homage to American literature's most famous partier! In keeping with the book, you could go with a "Roaring 20's" theme (you are celebrating the tail end of your own "roaring" 20's after all).
You could host in your own home with flashy 1920s' decorations or look for a nearby mansion that can be rented out for the evening. You can find flapper dresses and tuxes at a local store or online. Remember to also buy more jewelry. But most importantly, make sure to keep the champagne, wine, and beer flowing. You could even rent or buy a champagne fountain to really glam it up! Get some flapper music going in the background for people who want to cut a rug. You can do this by hiring a big band or just finding some tunes online to pipe through your sound system. Either way, you're sure to be the toast of the town!
PrettyGuide Women's 1920s Flapper Dress Vintage Swing Fringed Gatsby Roaring 20s Dress
sultry V-neck,sleeveless silhouette,lend a elegant and modern edge to your Gatsby party; SIZE S = US4-6; M = US8-10; L = US12-14; XL = US16-18; XXL = US18-20; 3XL = US20-22
embellished with sequin and beads,full of luxury and vintage sense,glitter 1920s dress
hem finished with tiered long tassels,swaying fringed,moves with magic,look fabulous while doing the charleston;roaring 20s dress
side zipper to cinch in your form,flattering vintage flapper dress;full lining for comfortable wearing
midi length gleaming great gatsby dress,tassel twists around knees in flapper flair delight;sparkly cocktail dress,great for tea cocktail,,dinner,wedding,halloween,new year,Christmas party,any specail occasioon

See on

Amazon
$62.99
8. Casino Night
Perhaps you want a sophisticated grown-up theme with more of a "007" vibe. You and your friends could either trek out to the nearest casino, which may not be very near at all, or you could host an in-home casino. You may not be able to install slot machines, but you could rent or buy tables for craps and roulette, along with plenty of card games. Online you are guaranteed to find casino-themed decor.
You can also possibly find some costumes, or simply have your guests show up dressed to "kill." Be sure to have plenty of drinks and appetizers to enhance the experience. Whether you make it a "Night in Vegas" or in "Monte Carlo," it will be an apt tribute to being "truly grown up."
9. Murder Mystery Party
Perhaps you want to turn your night into a game with a plot. Who wouldn't want to play a part in a gripping whodunit? There are plenty of scripts online featuring all kinds of themes and time periods. You could rent a mansion for this, too; or perhaps just a large room at a fancy hotel or restaurant.
Most prefer to host these within their own homes, though. Costumes may be rented, or you get creative and cobble together your own with whatever you have in your closet. You could make a dinner of it or just serve up some nice snacks. You're sure to make some great memories in honor of the "death" of your twenties.
10. Escape Room
Another way to bring on the suspense is an escape room adventure. Locked in a room with limited time, your adrenaline will spike as you race against the clock and/or another team, searching for a trail of clues that will (hopefully) set you free! These places have become ubiquitous over the last few years; you're likely to find at least a few within driving distance of your home.
As with murder mystery parties, a wide variety of themes are offered, all serving up plenty of fun! Who knows? Maybe you'll make a tradition of it! Anyway, this is another great, non-run-of-the-mill, way to celebrate such a great milestone!
11. Karaoke
This one is a little more traditional, but there are many ways to personalize it. You can choose the type of venue to fit your purpose -- a small pub can work well for smaller groups or you could find a large restaurant if you want to celebrate big!
In either case, you can accompany the karaoke with dinner, drinks, and dancing. Or if you aren't into celebrating with strangers around, your own living room or backyard could provide a perfect backdrop. Plus you can decorate it any way you want with flashing lights and a karaoke machine. If you are going to a place that does not have karaoke, you can invest in portable karaoke microphones and sing with family and friends. So if belting out your favorite tunes makes you happy, karaoke is the way to go!
12. Concert Tix
Find a concert that suits your musical taste, whether it's outdoors, at the theater or at a live music bar, whatever it is, make sure to dress up with your friends before your go - that is always the best part!
13. 90's Theme Party
Another fun way to celebrate such an important age is an homage to your childhood. This one you can throw in the comfort of your own home; or you could still rent a venue. In any case, there are plenty of ways to pay tribute to this decade. You can find plenty of 90's-themed decor online and at your local party store. Or you could throw up some posters of your fave boy bands like N'Sync or Backstreet Boys.
As for dressing up, use your imagination! If you idolized the Spice Girls, you could find some totally "posh" getups of mini skirts and platform boots. Or you could go the grunge route and have Stone Temple Pilots blasting through your speakers as you roam around in jeans and flannel tops. Don't forget to have some 90's movies or TV shows playing! Most importantly, just remember what you loved best about our culture when you were a kid, and that will guide you on the food and entertainment to serve up.
Throwback 90's Photo Booth Prop Set - Funny 1990's Theme Party Decoration, Favors & Supplies
BACKSTREET'S BACK ALRIGHT! There is no better way to get CRUNK at your 90's theme party than with our funny throwback 1990's photo prop set. OH SNAP! 40 PIECE PACK: Pack includes a variety of shapes, sizes and colors including hats, lips, glasses, bow ties,and funny signs! Hilarious photos are guaranteed to ensue! EASY TO ASSEMBLE: Simply attach the included bamboo dowels to each prop using the provided clear stickers. QUALITY: The beautiful, high quality printed artwork will catch the attention of your loved ones. Our photo props are sturdy but not heavy and meant to be reused. GUARANTEE: We stand by our photo props with a 100% money back guarantee. If these party decorations do not make you and your loved one's smile, then your money back.
See on

Etsy
$19.99
14. Feature your favorite Country
There are many international themes you could go with; why not pick one that truly resonates with you? It could be a country of your heritage or one you visited and fell in love with. Whether it be Parisian, Moroccan, or Indian, your theme will be a hit if your heart is in it. For food, you can show off your cooking skills to serve guests. You can also decorate your birthday space with flags, featured images, or symbolic objects from different countries to highlight your birthday theme.
You're also likely to find movies on Netflix or Hulu that can be featured or played in the background. And it won't be difficult to find a channel devoted to your nation of choice on Spotify or Pandora. You could even have cultural dance lessons or play some games unique to the country. The important point is that you are celebrating something you love in order to celebrate yourself!
World Flags Banner with 100 International Countries for Party Decorations (80 Feet)
Instantly elevate your travel-themed decor with this country flags of the world banner that can easily be hung in any backyard, entryway, patio, bar, classroom, or party venue
The assorted world flags include countries such as Canada, Italy, Germany, Mexico, Brazil, Qatar, and Jamaica
The pennant flags are made from a polyester material; perfect for indoor and outdoor use
Each flag measures 8.2 x 5.2 inches, once assembled, the banner measures 80 feet long
You will receive 1 flags of the world banner with 80 feet of string for convenient and easy hanging

See on

Amazon
$13.99
15. "Kiss" your Twenties good-bye
A fun, flirty way to welcome in your thirties is with this cute spin on saying farewell to your twenties. This theme is fairly simple; you just need food and/or decor in the shape of lips. You could bake or order a pink or red cake that is covered with "kisses"; lip-shaped cookies painted pink or red are also a good option. Search for decorations online, or even visit your local craft or party store if it's close to Valentine's Day. Along with the pinks and red, a splash of gold here and there can really glam up the place.
As favors for your guests, you could give out the cookies, lip-shaped candies, or Hershey's kisses, or a mix thereof. You could feature a movie like "French Kiss" just for the fun of it. Or your favorite rom-com will also do! If you want a light-hearted take on ushering in a new decade, this is the theme for you!
16. "Thirty" everything
To go with an obvious theme, you could adorn every corner of the place with the number thirty. Spell the word "Thirty" on your cake, have balloons in the shape of the number 30, 30-shaped cookies, the word/number thirty plastered all over the wall; you name it! For a kooky twist, you could have thirty of everything, including balloons, chairs, treats, plates, etc. Nobody will forget which birthday this is for you, and you should own it!
GOER 42 Inch Gold 30 Number Balloons,Jumbo Foil Helium Balloons for 30th Birthday Party Decorations and 30th Anniversary Event
Package Includes:42 inch gold number 30 foil balloons,1 inflatable straw,10 meters ribbon
Polymer double-layer thickening anti-explosion material.Light and sturdy, just fill with 90% helium to float
Reusable
Perfectly Decorate Your 30th Birthday Party or Others Anniversary Event and Giving a Deep Impression to Everyone
Made of food grade material,safe and non-toxic

See on

Amazon
$8.99
17. Pizza and Game night
If you prefer something more low-key, or you and your friends have kids and want to include them in the festivities, you could throw a pizza and game night for the ages! You could simply order in, or for a fun spin, you could pick up a few plain cheese unbaked pizzas from the grocery store.
Grab some peppers, onions, olives, pepperoni, sausage, or whatever toppings you and your friends like, and everyone can create their own pie or slice! You can offer some beer for the grown-ups and juice and sodas for the little ones if they're joining you.
Provide a mix of games to play. These games could be on a console like the Wii, or card games at a table, or more interactive games like role playing and Pictionary. Have prizes too! You can host a trivia night about the birthday person and whoever wins gets a prize to take home. Or have your guest bring their favorite games and you can make it an epic night! If you're into low-fuss fun, you will have the time of your life and make great memories.
These Cards Will Get You Drunk - Fun Adult Drinking Game for Parties
The fun adult drinking card game that will have you and your friends LOL-ing.
Compete, vote and screw your friends over with 100 dynamic cards - no two games are the same.
Super easy to learn and play - perfect for your next party, pregame or nights in.
Great for 2-8 players, ages 21+.
Play with beer, shots, wine, water...whatever, but always drink responsibly!

See on

Amazon
$15.99
18. Pajama Party
If you want to go even more low-key, have everyone come in their PJs and enjoy lounging. Have plenty of cushions and pillows for friends to sit on; you could even find some bean bag chairs, or have guests bring their own. Get some relaxing tunes going and offer some light snacks and drinks. Maybe play some slumber party games, like truth or dare!
You could do some mani-pedis too, along with facial masks. A nice rom-com or old movie could be another nice touch. It can be a throwback to your younger years with a few grown-up touches. In other words, a perfect way to celebrate such a transitional birthday!
19. Paint Night
If you're artistically inclined, one of the latest, trendy birthday party ideas is a paint night! You and your friends can either visit an art studio or host this in your home. You are usually given a canvas and paints, along with a work of art to mimic. Perhaps the example will have some birthday themes!
An instructor can give you tips for the best results. The end products are oftentimes quite stunning! Plus, you will have a nice physical memento of your night of celebration. These nights are not complete without yummy treats and drinks, so make sure someone provides!
20. Brunch
If there's one thing that people start doing more of in their thirties, it's brunch! Most restaurants that offer a weekend brunch worth its salt are booked solid with lines out the door (mostly consisting of those in the thirty-plus crowd!). After all, who doesn't love pancakes with delicious fruit and a side of bacon? And fresh-squeezed orange juice? But you don't have to book a reservation weeks in advance or wait for hours in line. You can host your own brunch! You can even make it a potluck to yield an enticing spread of waffles, crepes, omelets, breakfast meat, fruits, and whatever else people come up with.
Find some nice linens to dress up the table, and add some flowers to spruce up the room. You can use your grandmother's fancy china or simply buy fancy-looking disposable plates and silverware. This yields just the right balance of elegance and homey. It's sure to impress your friends and mark an auspicious beginning to this new chapter of your life.
Lipo Waterproof Tablecloth Embroidery Burlap Linen with Tassel - Heavy Duty Wrinkle Free Rectangle Table Cloth for 6 Foot Tables Rustic Farmhouse Tablecloths for Outdoor Indoor Use 55x86 Light Brown
SIZE: Tablecloth size as 55x86 inches, longer length than noraml table cloths rectangle 60 x 84 for better dropping effect. Suitable tablecloths for rectangle tables from 31''x62'' to 39''x70''.
WATERPROOF & WRINKLE FREE: Lipo rectangular tablecloth with extra water resistant coating makes the table covers spillproof, waterproof and stain resistant. Made of heavy weight and well treated fabric, non slip, wrinkle free, not easy to be scratched to ensure the protection of your tables, touches smooth and with a good dropping effect.
ANTI-FADING & ANTI-SHRINK: Dyed with new technology and high-quality dyes, good fixing effect, machine wash tested, no fading nor shrinking.
DESIGN & OCCASIONS: Rustic farmhouse tablecloth design, nicelyt embroidered plaid tablecloth with tassel hem, creating a vintage elegant home decoration. It can be used in various occasions, as indoor table protector for dining room coffee table cover, kitchen table pads, as outdoor tablecloth for birthday party, wedding tablecloth, brunches, buffets, picnics, catering, restaurants, hotel, patio table and so on.
MACHINE WASHABLE: Machine washable tablecloth, tightly sewed tassel fringe will hold well after washing. Better wash in cold water and tumble dry under low temperature. Require little or no ironing. DO NOT BLEACH. You can free your hands by throwing it in your washer and wait for a clean and nice tablecloth.

See on

Amazon
$18.20
21. Have a night with cheese and wine
Cheese and wine are the perfect pairings for a lively party to let go of worries and welcome happy things. If you want to do your best to celebrate your 30s, serve wine to your guests. Or just have people bring in their favorite bottles, so everyone can try something new.
DIY Mozzarella Kit + Ricotta & Farmers' Cheese (4 batches, cow or goat milk)
Whip up your own fresh mozzarella for Caprese salad in about 40 minutes! Bonus ricotta and farmer's cheese are even faster. This is our most popular cheese kit and is for absolute beginners. It makes 4 batches and you choose which you want to repeat - try fresh herbs, hot peppers and your favorite spices for unique cheeses not found in stores! For even more fun, pair this kit with our online class for Farmer's Cheese made in just 20 minutes https://www.etsy.com/listing/1098276333/online-cheesemaking-class-for-beginners. The set makes an excellent gift for any cook or cheese lover. Included: Instruction Booklet Unlimited Email Support Fine Mesh, Unbleached 100% Cotton Cheesecloth Metal Probe Thermometer Vegetarian Rennet Non-GMO Citric Acid Non-Iodized Cheese Salt (Fine Flake Salt) What you need: Simply add milk and basic kitchen equipment (pot, colander, spoon, measuring utensils). Follow the instructions and in one hour or less you will be eating and sharing homemade, all-natural mozzarella, ricotta or farmers' cheese! Pasteurized store-bought or raw farm-fresh milk both work. Make sure your store bought milk is not ultra-pasteurized or UHT, ultra-heat pasteurized. Quantity: Kit makes 4 batches of cheese. A batch weights 1 lb or more. You'll have plenty of supplies to experiment with different herbs and spices. Dietary guidelines: This kit is gluten-free and vegetarian. Shelf life: Minimum 1 year with an additional 3 years when rennet is stored in a freezer after purchase. ___ Shop Notices: Please leave brief gift messages (exactly as you want them to appear) in the note section at check out. Edit address if necessary. Orders with incorrect addresses will be cancelled so you can re-order. I don't edit as this can cause delays and mistakes. Thanks so much for your understanding! Food Safety and Allergens: Kits and supplies are assembled in a fully-licensed facility that strictly follows the Department of Agriculture cleaning guidelines. The food items are all gluten-free but packaged using equipment that also pack wheat, soy, corn, nuts and other food allergens. For more information visit www.urbancheesecraft.com
See on

Etsy
$30.60
22. Trip Down Memory Lane
Your thirtieth birthday party is the perfect day to reminisce and say goodbye to a past era. Bring out all the memorabilia, clothes, shoes, makeup, photos, books, anything you have from the past 30 years. I would even bring out the old college degree and invite those unforgettable college friends! Place them all around the area as decor, like an exhibition of your life so far.
It is not a bad idea if you can wrap your memorable photos in pretty frames and arrange them around the party space as your guests will love to walk around, see all those photos, and watch you grow up over the years. Everyone is sure to enjoy the little trip down memory lane! This is a cheap but great birthday party idea for adults!
Distressed Emily Picture Frame, Rustic Picture Frame, Picture Frame, Hanging Frame, 4x6 and more Frame, Wooden Stain Picture Frame, Emily
Emily Picture Frame, Rustic Picture Frame, Picture Frame, Hanging Frame, 4x6 and more Distressed Frame, Wooden Stain Picture Frame, Emily SALE! BUY 2 FRAMES, GET 15% OF YOUR ENTIRE ORDER! BUY 3 OR MORE FRAMES, GET 20% OFF YOUR ENTIRE ORDER! (Discount will be given at checkout, in the Etsy cart) Featured is our Emily Picture Frame, which is a hand painted and hand finished wooden frame. Available in a wide variety of colors and sizes, this frame is perfect for weddings or shabby chic decor. Frame Moulding Width: 7/8" Frame Rabbet Depth: 3/8" Frames up to 20x24" include real glass. Frames larger than 20x24" include plexiglass. You can choose this frame to hang or to stand up to size 8x10! Frames larger than 8x10" will be made to hang. If you choose to stand, this frame will be made to stand by drilling a small hole in both legs, which a dowel rod can be inserted into for a rustic stand. We include the dowel rod to be inserted once you receive your frame. This type of stand supports up to an 8x10" frame. If you choose to hang, 16x20 and smaller frames will have metal sawtooth hangers pre-installed. Larger frames will include wire kits that can be installed once your print is placed with a phillips-head screwdriver. You can choose the size you need, or change the color in the dropdown menu on the right. Need a mat? https://www.etsy.com/shop/therustyroof?ref=simple-shop-header-name&listing_id=654739211§ion_id=30870709 We can make almost any size that you need, including the most common sizes, such as 4x6, 5x7, 8x10, 10x10, 12x12, 11x14, and 16x20. Contact us with any questions or requests for a special size that we do not have listed. Frame size is determined by the size artwork the frame will hold. For example, if your artwork is 8x10, choose an 8x10 frame. The visible area of the artwork will be approximately a .5" smaller than the size of the frame. For example, the visible area of an 8x10 frame is 7.5x9.5, due to the lip of the frame that holds in the glass and artwork. Please note: various screens display colors differently, and actual color may vary slightly from what is pictured. We DO NOT ship to Alaska or Hawaii! Thanks for visiting, and we hope to talk to you soon!
See on

Etsy
$12.99
23. Do a little Tarot-reading
Chances are you and your friends are at least a little interested in how the stars affect your day. Your guests would love an astrology-themed party! Look into local psychics or tarot readers and book them for a few hours. You can also provide tarot cards and books so you and your friends can have a go at it yourselves.
For decorations, try to stick with your sign's theme or color scheme. Tapestries, scented candles, and incense are a great way to start, but feel free to get as creative as you can!
Scented Candles Set, Candles for Home Scented, Aromatherapy Candles for Home, Soy Wax Candles Set 4x2.0 oz, Wonderful Gifts for Mother, Women, Friends and Coworkers, Valentines Decorations
Package & Size Of Scented Candle -4x2.0oz, four scents, with smell of Cedar, Linen, Peony, Bamboo.
Soy Wax Candles- Made from soy wax and cotton wick, providing a cleaner, longer burn
Ideal Scented Candle Gift Set-Mother Day Gifts for Mom: The ideal relaxation set for birthdays, Christmas, anniversaries, Mother's & Father's Days, or other holidays that will delight people of all ages
Easy to Use&Carry- Our smokeless aromatherapy candles are the right size for easy access, A portable tin candle, which can be sealed and taken with you wherever you go.
Buy With Confidence - We stand behind our products with confidence. Once you click the ADD TO CART button, You are doing that risk-free. Contact seller directly if any issues, Service Team will respond as soon as possible

See on

Amazon
$11.99
24. Do a peddle tavern
Peddle taverns are a unique way to get your drinks and your workout in! Get a couple of friends and book a local peddle tavern ride around your downtown area. This creative birthday party idea for adults might be a little expensive, but totally worth the experience. Ask the driver if you can stop to take pictures during the ride, and make the most out of it!
Make sure to dress for the weather, and keep in mind that depending on your state, this might only be a good idea for a unique 30th birthday party during the summer months!
25. Go Glamping
Ever thought of unplugging and just enjoying nature for your birthday party? Booking a woodsy cabin or a beach yurt might just be the perfect get-away for you and the girls. Enjoy the wanderlust vibes and take a few days to reset, relax, and glam with your best friends.
26. Go Paintballing
If you want to do something more exciting, go to a paintball park with your friends. Shoot your friends in a fun and competitive sport that will leave you excited. There are plenty of modes to play in paintball including capture the flag, speedball, woodsball, MilSim (Military Simulation), Zombie Hunt, and more fun activities!
27. Go to Trampoline Park
Like bouncing on trampolines? Well then, you're going to love bouncing in a park with trampolines on the walls and floors. Some trampoline parks like Skyzone offer multiple activities to do while you're bouncing around like freestyle jumping, dodgeball, basketball, jousting, volleyball, and more fun activities that will leave you laughing and tired!
28. Go Scuba Diving
Scuba diving is an exotic and eploration way to celebrate your 30th birthday. Hire a scuba instructor if you're new to it and explore the deep depths of various bodies of water. Explore and see the fish and other sea life with your own eyes and enjoy all of the wonders the sea has to offer!
29. Go to Water Park
Going to a water park is a great way to feel young again. Do some of the fun wet activities like going on the water slides, going in the wave pools, relaxing on the lazy river, and more activities that leave you wet and thrilled!
30. Go to a Sport Games
A sports game is a simple and relaxing way to celebrate your birthday. Cheer on your favorite team in the stands with your favorite sports food. Some sport games you can go to include basketball games, football, baseball, soccer, and other sports of your choice!
31. Doing some Recreational Shooting
A real fun activity that will get your adrenaline rolling is shooting. Some shooting activities you can do include skeet shooting, trap shooting, regular target shooting, and more activities. Remember to follow the range rules and ask for instruction if you're new!
Conclusion
Hopefully, one of these 30th birthday party ideas has at least sparked your creativity to create a one-of-a-kind celebration of the onset of your thirties, no matter the pace of your lifestyle or the size of your pocketbook. This new decade can offer many exciting benchmarks and transitions. Its beginning should be marked in a joyful, unforgettable way. So go to, and make the most of it! If you're looking for other adult birthday party ideas, our blog has got you covered.
We partner with various affiliate sites, like Amazon, from time to time to assist our users in planning their events more quickly. If purchases are made, we receive a small commission.
Written by Kathy Jones; Contributors: Stacie Lowe and T. Michael Pham