Updated on: Sep 14, 2023
One of the best parts of planning a baby shower is having the opportunity to have a theme around the whole party. It can be a very fun and creative part of event planning, especially if you choose to go with a safari theme that focuses on the jungle and the animals that accompany it. This unique party theme can be for a boy or a girl, it doesn't matter. We also offer Checklists and budget worksheets for baby showers!
The safari theme allows many ideas to come to life, our goal is to make the planning process much easier for you! This article will include many ideas you can use to spice up your party.
Safari baby shower invitations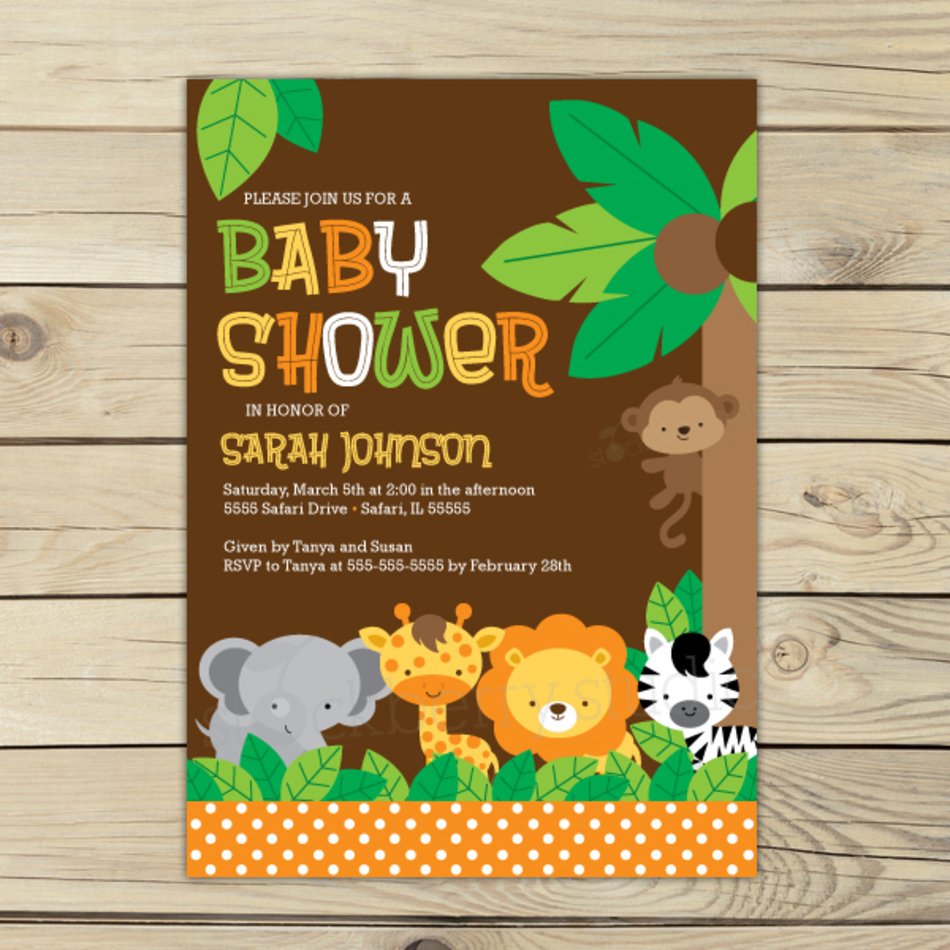 Source: Pixiel
1. Safari themed invitations
For starters, you can invite guests in a fun way. Create or buy Invitations with the theme of a safari to portray the theme of the jungle / tropical forest and also include wild animals. Vibrant and bright colors are a must.
Invitations will also give guests an idea of what kind of gifts they can bring. This could be extremely helpful if the plan is to decorate the baby's room with a safari theme. You can mention this in the invitation to better prepare your guests for gift purchases.
2. Photo Invitations
Bring a personal touch to your invitations by adding a photo of the future parents with a safari background or an adorable baby animal!
3. Calligraphy invitations
If you're on a high enough budget, handing out calligraphy invitations would be a great way to get people's attention to attend your safari baby shower.
4. 3D Pop-up Invitations
Design your cards with a special pop-up design of baby jungle animals with a safari background and maybe even some confetti for a fun surprise!
Safari baby shower decorations
This is where you can have the most fun when planning a safari-themed baby shower. The options for decoration are endless. You can use them to decorate your home or any place where you decide to stay. The first and most important thing you need to do is to create a natural forest environment. To do this, be sure to decorate with lush leaves and ferns to add the shades of green needed to create a forest appearance around the room.
5. Leaves and ferns
The first and most important thing you need to do is to create a natural forest environment. To do this, be sure to decorate with Lush leaves and ferns to add the shades of green needed to create a forest look around the room.
6. DIY Safari Backdrop
Create a fun focal point with a DIY safari backdrop with animal cutouts and a safari jeep for photo ops!
7. Tropical Beverage Station
Try creating a dedicated drinking station and use small plants to add a safari vibe to it.
8. Faux Animal Print Rugs
Bring some extra wild energy to your party with faux animal print rugs!
9. Window decorations
There are many options to choose from when you're trying to spice up your home's windows and walls for the party.
10. Animal balloons
Consider buying some animal-themed balloons for kids to play with!
11. Pots or Vases with Ferns
Adding real pots and vases with real plants can make the party come alive, just be sure to keep them out of the way of the little ones.
12. Straw table skirt
A nice straw table skirt can be a very nice decoration to spice up the table for gifts, food or drink at the party. However, be sure to stay away from those that appear to be for a luau.
A great thing when decorating is sticking to a color scheme. A dark green palm vibe is not going to be enough. You want to incorporate vibrant jungle colors to brighten up the room. You can also add pops of pink or blue to indicate the sex of the baby if desired.
13. Figures and statues of action animals
What is an animal-free Safari? Place animal statues or even action around the place to give it an atmosphere and make it feel more like a safari.
Safari Baby Shower Party Supplies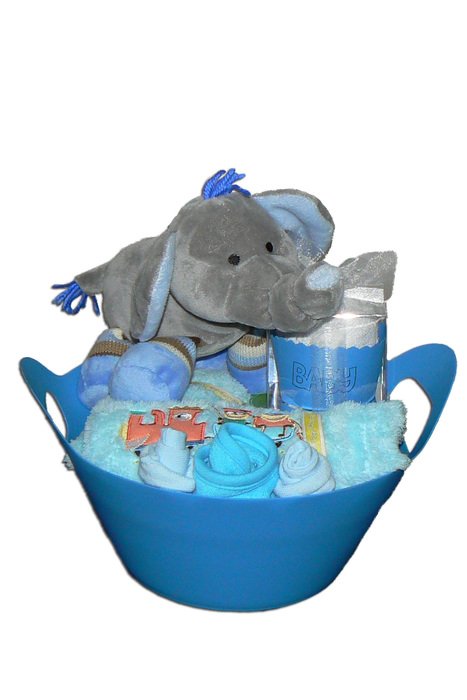 Fuente: Pixie
An important part of a baby shower is the centerpieces you decide to go with. The obvious route for a centerpiece might be some kind of animal-themed piece. You can build it around the food table if that makes it easier. Most parties offer a selection of food with animal ornaments around the food to maintain the safari feel.
14. Jungle tablecloth
An easy and inexpensive way to make your table fit in with the rest of the décor is a nice jungle-themed tablecloth.
15. Safari Jeep Serving Trays
Serve your snacks and appetizers on safari jeep serving trays for a whimsy decoration that will make your guests smile!
16. Centerpiece with jungle animals
These animal decorations on a stick can be great to place in the center of the table in a nice pot with plants.
17. Tropical Leaf Placemat
Keep the safari theme going with tropical leaf placemats that will add a wild element to your tables.
18. Animal print sign
Another great option is this Etsy Safari themed sign to place in the center of a table.
19. Animal figures
Gold Safari Animals | Decorative Gold Animals | Safari Party Decorations | Jungle Animals | Birthday Party Decorations | Safari Nursery Decorations
Decorative Gold Animals: these statement pieces are painted a metallic gold colour making them so versatile and right on trend
Gold Safari Animals: one of the most popular party themes for everything from a "wild one", to baby shower, "two wild", stagette, bachlorette party, and more!
Gold Party Animals: set the theme with these conversation pieces. Everyone will want to know where you got them!
Gold Safari Party Decorations: so unique and versatile, they compliment so many styles of this popular theme
7 Unique Animals: Each package includes 7 DIFFERENT animals: an elephant, giraffe, male lion, female lion, tiger, rhino, and gorilla. These animals are a large size (measuring approximately 4.5 - 6 inches long and the giraffe measures approximately 6 inches high) making them perfect for your party centerpiece.
See on Amazon
$10.99
A great way to spread some color and add some flavor to your centerpiece or food tables would be these golden safari animal figurines that could be used as toys later on!
20. Wooden message box
A common centerpiece for a baby shower is a giant wooden box decorated with the theme and then has a slot at the top for guests to write notes for the baby and parents to read later. Leave blank cards next to the box so it can be done smoothly. These cards will be great to keep and put in a scrapbook of some kind for the future baby.
Safari games for baby shower
A good thing to have at a baby shower is games. It keeps the party fun and enjoyable for people of all ages, and if you want to make it more interesting, prepare some gift bags for the winners of the games!
21. Safari Bingo
A classic and easy baby shower game. There are many Bingo boards you can get online, but you can also make them yourself if you're creative enough!
22. Animal Sound Game
Bring your wild safari to life with an animal sound game! Simply, play recordings of various safari animals and have the guests guess which sound belongs to each animal.
23. Safari Word Search
Using an alphabet soup to try to get everyone to settle in before a meal can be a great idea, check out these safari-themed custom word searches.
24. Guess the Animal Print
Challenge your guests with a fun guess the animal print game, in which your guests guess the animals each print belongs to
25. In the musical chairs of the jungle
This is much more complicated and could get louder, but playing a song from the Lion King movies everyone knows and playing musical chairs is a great time!
26. Mom or Dad Safari Theme
A fun and interactive game to play with the whole crowd is the mom or dad guessing game. It's easier for adults to play, but kids can get involved too!
27. Curiosities of safari animals
Trivia is a great way to engage guests. Throw some animal trivia to guests with a prize that will get people involved in the celebration.
28. Animal coloring books
Coloring is a classic and fun for everyone to enjoy. Make sure to give everyone plenty of markers and other colorful utensils to let them color until their heart's content.
Safari Baby Shower Food+Drink Ideas
Source: Pixabay
One of the most important parts of any party is the food, snacks, and dessert. Depending on whether or not you plan on feeding your guests a real meal will obviously depend on what you have to make. Most baby showers stick to small snacks and desserts.
29. Safari Animal Plates
A cute way to make the eating more fun is to get some safari-themed plates and napkins that will match the decorations and add to the theme.
30. Jungle Juice
Keep your guests refreshed with a fun fruity tropical punch called Jungle Juice!

31. Safari Cups
To go along with the plates and napkins, why not pick up a few stacks of safari-themed cups? There are many options for full packs that come with plates, napkins, and cups. But if you just want to go with the cups, here are a few options.
32. Safari Animal Fruit Tray
Make your fruit tray festive when you cut your arrangement of fruits into the shape of safari animals such as elephants or giraffes!

33. Snacks
For snacks, an easy solution is small things like pretzels, popcorn, chips, cheese, and crackers, etc. Baby showers are much more of a snacking environment so plan accordingly.
34. Animal Cupcakes
A cool way to incorporate them in the dessert is to make cupcakes in the shape of jungle animals, but if you are not that talented, then cupcake cups will do the trick!
35. Safari Cake Topper
If the plan is to go with a cake then consider getting a cheap cake topper to indicate the gender of the child!
Cake and Cupcakes are very popular but don't feel obligated to make them just because we said so. Cookies, donuts, cake pops, or macarons are all good choices as well!
Safari Baby Shower Party Favors
36. Keychains
A cute way to have your guests and their kids remember the party would be to have them leave with an animal keychain.
37. Animal Cake Pops
A tasty option for a party favor would be an animal themed cake pop.
38. Small Plants
Sending guests home with a little plant from the party is a very cool favor and very unique.
39. Animal Shaped Cookies
Making cookies in the shape of animals to stay with the theme and sending them home is a delicious way to say thank you for coming.
40. Safari Themed Bracelets
You could either give one to each guest individually or put them in a bag filled with other goodies, but a safari-themed bracelet would be great for kids.
41. Treats in a Mason Jar
Packing a mason jar filled with candies and treats is another great option for a party favor.
42. Favor Bags
Bags filled with different things like treats such as cake pops, macrons, or cookies can be a great gift.
43. Favor Display
Creating a gift table decorated and designed to look like the safari would be a nice way to pull the whole room together and people wouldn't leave without grabbing a bag!
44. Customized Labels
Using customized labels on the favors is a great way to thank your guests for coming and celebrating you and the baby!
One way to take it to another level would be to keep the jungle theme going by wrapping the favors in leaves. You can also make sure to add customized labels to the favors to make it more personalized of a gift.
45. Safari Animals Stuffed Animals
Stuffed animals are almost good party favors for the guests to take home. Bring stuffed animals from the safari like Elephants, Giraffes, Lions, and other animals to give your guests a memorable experience.
Conclusion
Planning a baby shower is a very fun and rewarding process, but it could be a lot of work. Make sure you leave enough time to get decorations, food, and games, and make sure you set it up well in advance to have the best party possible! The goal is to make it very relaxing and fun for children. Future parents and not a stressful day. If it looks like this particular topic is going to be too expensive, take a look at other Affordable options. Your safari baby shower is also a great opportunity to think about baby names, and you can use our baby name generator to get the ideas flowing!
Last but not least, take plenty of photos for parents and guests!
Written by: Andrew D'Amour