Updated on: Jul 19, 2023
Planning a prom for graduating seniors can be stressful and a lot of work. There is a lot of planning and organizing that goes into planning a prom. With these prom ideas, we hope we can make the experience less stressful and hopefully fun. In this list, we have checklists so it is easier for you to plan and remember all the essentials. We have guides on hiring DJs, bus rentals, and party supply rentals. We have also included budgeting worksheets to make sure you plan your prom within the school's budget.
Easy Prom Budget Worksheet
With our prom budget worksheet planning, a prom is easier than ever. This collaborative worksheet allows you to share your budget plan with other faculty with ease. Project your budget on items and instantly see the breakdown visually in an automatically updated pie chart. Track your payments and the accounts that paid for each expense. You can download this budget worksheet instantly and it is free to use.
Prom Checklist
Assign due dates for tasks and see them automatically update with color-coding. Due dates approaching will turn yellow. Past due items will turn red. Completed a task? It will turn green. It's never been easier to keep track of your prom planning timeline. This tool is free to use and can be shared with other members of your prom committee.
18 Fun After Prom Activities
After Prom is all about fun activities so it is important to have the best game ideas for your after-prom event. Add karaoke with popular songs or a TikTok dance party. Create a game show or scavenger hunt. Set up mini-golf in the gym. Set up ping pong, air hockey, and fussball tables. Check out all of our after-prom activity ideas so you can begin brainstorming fun activities for your after prom.
Easy Prom Committee Budget Worksheet
Make prom planning easy with our prom committee budget worksheet. This worksheet allows you to share your budget plan and collaborate with multiple prom committee members. Project your budget and instantly see a visual breakdown of projected expenses in an automatically updated pie chart. Track your payments and which accounts are paid for each expense. You can download this free and helpful budget worksheet instantly and begin planning your prom's budget.
Prom Committee Checklist
With the prom committee checklist, your entire prom committee can be aware of due dates and the tasks that need to be done. Using a color-coding system, due dates for tasks are updated automatically. Tasks that are past their due date turn red. Those that are approaching turn yellow. Tasks that have been completed turn green. This free collaborative checklist keeps everyone on your prom committee up to date and organized. Not only is it useful to organize your tasks and timeline, but we provide resources to DJs, rentals, venues, and caterers near you.
29 Unique Prom Decorations
Don't forget all the essential decorations you need to make your prom's theme come to life. Our list of unique prom decorations will inspire you and help you begin to look for decorations you will need to plan your prom. We discuss invitations, tickets, streamers, balloon arches, curtains, murals, red carpets, and more.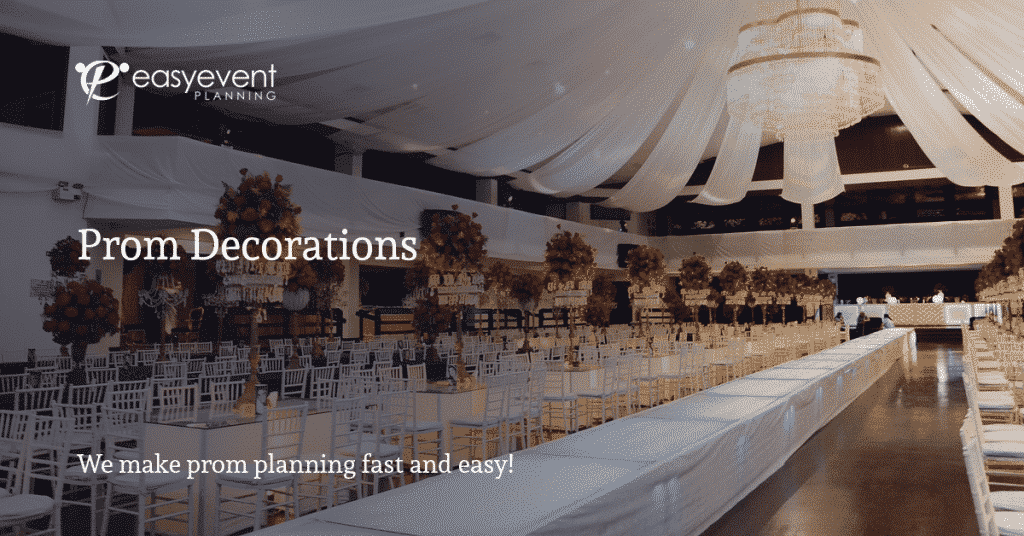 The Ultimate Party Bus Rental Guide
Providing students a party bus to travel to the venue and back to the school for their after prom is the safest option for students. Some students use prom as a reason to drink during their commute to the venue if they are given the option to travel in their own car or a limousine. Requiring students to take a school-provided party bus following the promenade will mitigate the possibility and risk of teenage drinking and driving.
When hiring a party bus there are some considerations to keep in mind such as the party bus rate, how big your group size will be, if they are familiar with the route to the venue, and more. A prom most likely will require multiple buses? How many would you need to accommodate students and their prom dates? We explore these questions in our ultimate party bus rental guide.
15 Useful DJ Hiring Tips
Having a DJ is essential to any prom but how will you know who makes a good fit for your party? There are aspects to consider like their previous experience. Have they DJ'ed for proms or other school events before? Are they a professional organization with professional-grade equipment?
Consider their rates and ask for a musical database sample. What type of songs would they play at your prom? You will want to select someone who knows all the classic dance songs as well as what popular songs the youth are into these days. Before calling your local DJ, consider the questions to ask and the advice we give in our list of useful DJ Hiring Tips.
4 Key Steps to Renting Party Supplies and Questions to Ask
Renting party supplies for a prom is the best option for any school. Why buy supplies outright if you will probably never use them again? It is also more cost-effective than buying party supplies. Some companies are full-service and will set up the decorations for you. When contacting a rental company there are questions you should ask such as their sanitation protocols, if they have worked with your venue before, how long it takes them to set the supplies up, if they have a portfolio and more. Everything you need to consider is included in our guide.
Conclusion
We know how stressful planning a prom can be but we hope that this list of tools and ideas will make the experience easier for you. We are constantly adding new ideas to our party planning topics and may have more information on our blog page.
If you need any more assistance with planning your prom and would rather an event planner take care of the stress for you, we would be happy to help. We have decades of experience in the event planning industry with a large database of contacts for various vendors. Contact us today for a free quote.
Written by Jack Leduc