Updated on: Jul 19, 2023
Turning 70 is a big milestone that should be celebrated with the best, most thoughtful gift. The question is, what do you get for a mom who has already had 69 birthdays and has probably already gotten everything that she has wanted?
Well, the answer is to get creative and make this year's 70th birthday for mom something that she won't expect. The key is to find her a gift that she didn't know she needed until she opens your present. Luckily for you, this article contains the top 35 gift ideas, which will not only surprise, but excite the 70-year-old person you are giving the gift to while also staying within your budget.
Custom Gifts for This Year's 70th Birthday for Mom
1. Special Gift Basket
Gift baskets are super easy to order and can be sent directly to the person whose special day it is. It is always a wonderful surprise to open a door to a stranger who bears a beautiful gift that you were not expecting!
The Bon Appetit Gourmet Food Gift Basket by Wine Country Gift Baskets
A GREAT ASSORTMENT OF GOURMET ITEMS: The Bon Appetit Gift Basket offers a wide variety of snacks and tea to satisfy any taste buds! The Bon Appetit our go-to gift for families, friends and clients
THE PERFECT GIFT BASKET FOR ANY OCCASION: Perfect as an anniversary basket for couples, a congratulations gift basket, college care package,corporate gift. Ideal and unique gift as a housewarming,retirement gift
PRIME PRESENTATION: We have taken gift-giving to a complete new level. Each detail in the package is designed to make your gift-giving even more thrilling and extra delicious. Our beautiful presentation will make this gift a memorable one
OVER 30 YEARS OF SENDING GIFT BASKETS: Making memories by giving a Wine Country Gift Baskets gift is an easy thing. We've been manufacturing and selling value-priced, quality food and wine gift baskets to consumers and businesses for over 30 years
PERSONALIZED GIFT MESSAGE: Personalized Messages are also available to share your customized sentiments for every situation that can arise. This heart-warming option has been included to allow you to share your custom created message with your gift recipient

See on

Amazon
$54.95
2. 70 Things To Do When You Turn 70
Giving her a book, which gives her a new perspective on what she can do in her new decade, can give her hope that she still has things to look forward to. The book gives her 70 ideas on what she can still do in her lifetime that she may have never thought of doing before!
3. Organic Spa Gift basket
Let your mom be able to pamper herself at home with a luxurious spa gift basket that has organic, dye-free baths, and body products.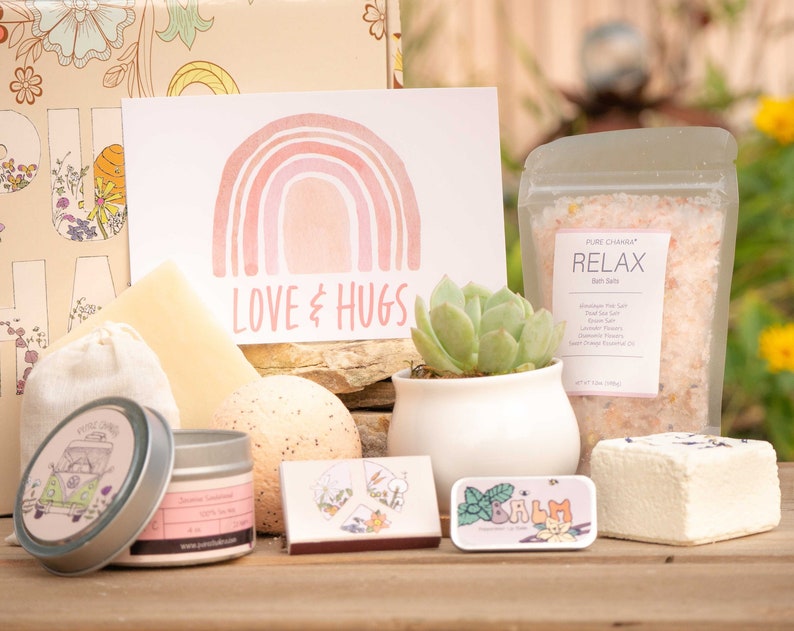 Love & Hugs. Thinking of You Care Package. Thinking of You Gift Box. Relaxing Cozy Candle Gift Basket. Care Package for Friend.
All gift boxes receive free shipping via USPS Priority Mail (1-4 business days). Send some love and happy thoughts to a dear friend with our Pure Chakra Gift Box and Care Package! Every Gift Box in this series includes the following: 1. Live succulent with Ceramic Pot and Bamboo Tray 2. Scented Soy Candle 4oz 3. Matching box of Matches 4. Satchet of dried Lavender 5. Organic Soap Bar 4-5oz 6. Bath Salts rich in minerals and made with Essential Oils 7. Bath Bomb (Pomegranate Pear, Sweet Roses, or Vanilla Oatmeal) 8. Peppermint or Vanilla Lip Balm 9. Shower Steamer (Lavender, Rose, Breathe Again, Citrus Mint) 10. Personalized Greeting Card Looking to make your gift a bit more special? You can find more add-ons and accessories in our Etsy shop. Don't forget to double check the shipping address and include a gift message! ???????????????? get well care package for him, get well soon care package for women, 30th birthday gift for men, 30th birthday gift for women, 40th birthday gifts for women, 50th birthday gift ideas, 70th birthday gifts for women, bestfriend birthday gift, self care gift box, birthday box for best friend, birthday box for friend, birthday box for him, birthday care package, birthday gift box for him, boyfriend birthday gift unique, gift baskets for women birthday, happy birthday box, happy birthday box for her, tea box, spa gift box birthday, bereavement gift loss of father, gift baskets for women, bereavement gift loss of mother, condolence gift, condolence gift loss of father, cat sympathy gift, care package for her, dog loss sympathy gift, dog sympathy gift, pet sympathy gift dog, self care box, sympathy box, miscarriage gift, sympathy gift box, sympathy gift for men, sympathy gift loss of father, sympathy gift loss of husband, sympathy gift loss of mother, self care kit, dog remembrance gift, college graduation gift for her, memorial gift for loss of father, memorial gift for loss of mother, sister memorial gift, care package for him, funeral gifts, pet bereavement gift, encouragement gift for women, heart surgery gift, coffee gift basket, coffee gift box, masters degree graduation gift, tea gift box, mentor gift, anxiety care package, gift baskets for men, gifts for best friend female, thinking of you care package, care package for her comfort, care package friend, house warming gifts new home, chemo care package, spa box for woman, chemo care package for men, chemo care package for women, self care gift box for women, chemo gift, grief care package, grieving friend gift, spa gift basket, college graduation gift for best friend, college graduation gift for daughter, college graduation gift for him, grad gifts for her, graduation basket, postpartum care package, graduation gift box, stress relief gift box, masters graduation gift, at home spa kit, luxury spa gift set, relaxation gifts for women, mens spa box, organic spa gift set, spa basket, best friend gift box, spa gift basket for women, spa gift box for men, family gift basket, spa gift box for women, spa gift set for women, going away gift for coworker, men self care box, spa sets for women, vegan spa box, housewarming gift box, vegan gift box, self care package, self care set, retirement gifts for women teacher, new mom gift basket, pamper gift box for her, long distance friendship gift, coworker leaving gift, going away gift for boss, succulent gift box, going away gift for friend, mentor gift for women, hygge box, mentor teacher gifts, mental health box, mental health gift box, plant gift box, closing gifts for buyers, mindfulness gift box, housewarming gift first home, realtor gift for agent, new apartment gift, succulent box, loss of child gift, loss of father gift, new mom care package, loss of mother gift, sorry for your loss gift, boss leaving gift, boyfriend gift box, new mom gift box, gifts for employees from boss, new job gift, cozy gift box, new job gift for him, corporate gifts, corporate gifts for clients, new baby gift basket, employee appreciation gifts, fall gift box, new baby gift box, new dad gift basket, housewarming gift basket, new dad gift box, pregnancy gift box, new mom gift basket postpartum, hygge gift box, new parents gift basket, new parents gift box, new beginnings gift, congratulations pregnancy gift, postpartum gift, home gifts store, stress relief gift for her, gift baskets for mom, housewarming gift for best friend, luxury gift box, bath sets for women, neighbor gift, homeowner gift, hygge gift, realtor gift basket, closing gifts from realtor, gratitude gift, new home gift basket, first time home buyer gift, sunshine box, entrepreneur gift, thinking of you gift for men, pregnancy care package, pregnancy gift basket, fall care package, college care package, college gift box, family gift box, thinking of you care package for men, thinking of you gift box, expecting parents gift, fall gift basket, relaxation gifts for men, stress relief gift, post partum gift box, vegan gift basket, just because gift for him, sunshine gift box, gift baskets for couples, host gift, hostess gift ideas, dad gift box, fall box, gift box for women cozy, sleep gift box, first time mom gift, winter gift box, hug in a box, pregnant mom gift, client gifts, hysterectomy gifts, lavender gift box, gift box for friends, gift baskets for her, congratulations gift box, college gift basket, gift basket for him, mens care package, nanny gifts, nurse care package, nurse gift box, office manager gifts, professor gift, real estate agent gift, roommate gift, sister gift box, sister gift from sister, teacher gift basket, teacher gift box, caregiver gift, farewell gift for boss, farewell gift for coworker
See on

Etsy
$42.30
4. 70th Birthday Necklace Gift
Every woman remembers the exact day that she receives a necklace, so why not commemorate her very special day by getting her one! There are rings for every decade. Every woman likes to be showered with beautiful and meaningful jewelry.
5. Expensive Wine
A 70-year-old will always appreciate a nice bottle of wine. Or get them wine from some special place you visited. Taking them to a vineyard as well to pick out their bottle is another fun birthday gift idea!
6. Dinner at Favorite Restaurant
Some 70 year old's just want a mellow birthday and would love to go to their favorite restaurant with you and spend some quality time together. Restaurant themed invites might be an exciting way to gather guests for their special dinner extravaganza!
7. Personalized The Day You Were Born Canvas
Everyone knows the year that they were born, but no one really knows what was actually going on in the world around them. Provide your mom or grandma with all the information they need to get educated on the exact day they were born on.
Personalized map canvas, Customizable map print, Home decor wall canvas, Any location map, Any address map, Worldwide custom maps
Create a custom map print with your own location/address/coordinates. Using your location/names/date we will create a custom map design. This is a professionally custom-designed product. It makes a great home decoration and conversation piece! It is a super fun keepsake and makes a truly special gift for your loved ones. At OCANVASY we are the perfectionist, we would love to create your art right at the 1st time. Please be sure to give us all the important information. Can be customized to any location Worldwide! Please check our shop for more designs and gifts ideas: https://www.etsy.com/shop/ocanvasy ??HOW TO ORDER YOURS?? 1. Select the size and finish, ADD the item to CART. 2. In the Personalization box ENTER your information(location) 3. Make your payment. 4. Within 2-3 business days, we will send you a design preview for your print. Your approval is needed before creation. PLEASE PROOF CAREFULLY, no changes can be made after the final approval! 5. Once you have approved the preview, we will create your product and ship it to the address provided during checkout. CANVAS PRINT DETAILS: • Premium Canvas is wrapped around the solid wood frame. • This canvas gallery wrap has vibrant and rich colors! • Canvas has a 0.75" or 1.5" thickness. • Pigment-based inks for exception fade resistance. • Printed on a premium quality cotton canvas material. • Our canvas prints are guaranteed to look fabulous for years to come. • Hanging hardware pre-installed, ready to hang. • Watermark will not be an actual print. • Please note due to computer monitors differences in colors may vary. • Your satisfaction is 100% guaranteed- please contact us about any problems. 100% MADE IN THE USA
See on

Etsy
$7.46
8. The New York Times Front Page Jigsaw Puzzle
A brain teaser is always popular with the older crowd because it helps the time pass during a long day and keeps their brain fresh! The best part about this gift is that you can create the puzzle from the time when your mom/grandma was born, so it's personalized for them.
9. Slide Show
This may seem like a simple idea to go with but trust me showing your mothers' journey in life and sharing it with the people she loves most will certainly stir up happy emotions. To add on, showing the honoree from when she was young with her family to when she finally got married will keep the audience engaged and keep the party feeling intimate.
10. Personalized Picture Frame with Poem
Let your mom know how much she means to you through your own words that you write. The personalized frame makes it even more special and a keep-sake forever. You can add a picture of you too so that every time she looks at it she knows that her special son/daughter wrote it for her.
11. Personal Messages
Have people that come to celebrate your mother's birthday write a message on a small note card or postcard about a nice or funny experience they shared with your mother. Make sure to ask them for as much detail they can provide to make the messages very intimate and thoughtful.
12. 70th Birthday Gift Box of Retro Nostalgic Candy
If you have a mom that has a major sweet tooth, then getting her this chocolate box filled with treats that are delicious and fun to reminisce on is the most ideal gift. The chocolates from her childhood will make her think back on good memories and become nostalgic.
13. Photo Shoot
The 70th birthday celebration is a day to remember, and what better way of marking the occasion than by having a photoshoot with family and friends. Your backdrop can be as simple as a green screen with props or if you want even more breathtaking photos consider choosing a very scenic outdoor location. Regardless of your choice of scenery, the photos you take that day will make for a great gift and memorabilia for all to enjoy.
Show your mom that you truly know her by having a large assortment of her favorite foods for all to enjoy. Whether your mother loves lavish foods or enjoys having a cookout taking the extra effort to put it all together will show your mom that you truly care for her and put thought into what she would want.
Useful Gifts for This Year's 70th Birthday for Mom
15. Extendable Back Scratcher
Nobody says no to a free back scratch, especially not one that you can do by yourself with an extendable back scratcher! Giving mom an extendable one is important as many 70-year-olds struggles to reach around to their back in general, so make sure you give her one that will benefit her the most! The back scratcher can also get that itch that has her going crazy, but again they have no one around to do it for them, every 70-year-old loves to be as independent as possible.
Personalized Back Scratcher, Custom Extendable Scalp Massager, Backscratcher with Extender, Adjustable Body Massage
Personalized Back Scratcher, Custom Extendable Scalp Massager, Backscratcher with Extender, Adjustable Body Massage Stainless steel telescopic handle design reaches from 6.5" to 20" inches in length. **collapses to the size of a pen for simple storage and transport **curved scratch portion with 5 fingers to effectively scratch itchy spots **pocket clip on end Unique Name or Phrase laser engraved on the handle! Any questions? Send us a message and we will get back to you as soon as possible. Thanks, Patience & Grace
See on

Etsy
$14.99
16. Seat Gap Filler
I think everyone could use this gift in their car because what's more annoying than trying to fetch your stuck credit card for an hour. Losing things for a 70-year-old can be even more complicated and frustrating because sometimes they cannot physically get into those little nooks and crannies anymore. Keep them from losing their phone, money, and food down the cracks in their car and get them the seat gap filler.
17. Digital Hearing Amplifier
70 is about the age that we all begin to lose our hearing. SO, help them hear what you are saying and place this digital hearing amplifier in their ear and be amazed that you have to say things once again! Never have to shout again!
18. Folding Garden Kneeler & Seat
Many older people like to spend more of their time in the garden and planting; a folding garden kneeler and seat. The seat is especially good for seniors with bad knees and backs. It is easy to fold up and store wherever.
MENOLY Garden Kneeler and Seat, Folding Gardening Stool with Kneeling Pad, Gardening Bench with 6 Garden Tools, Tool Pouches, Glove, Detachable Belt, Protectors Ideal Gift for Women Elders Gardener
Bonus Garden Tool Kit - Except for the kneeling garden stool, we also provide 6 high-quality aluminum gardening tools (including 2Pcs transplanter trowel, hand rake, weeder, pruner, cultivator), 2 large capacity tool pouches and a detachable belt, a pair of gardening digging gloves, 8 detachable foot pad protective covers. Meet your gardening activity need and no additional purchase of auxiliary tools.
Soft EVA Foam Pad & Durable Material - The ultimate comfort foam pad reduces painful pressure on your joints, keeping you comfortable for long periods of time. The other parts of gardening stools are made of high-quality steel, which are durable and can withstand up to 200LB (91KG). (It is suggestion to keep two knees instead of single knee on the kneeling pads and keep an distance between knees for protect the kneeling pad when kneeling on it.)
2-in-1 Multi-functional Kneeler - Our gardening tools for women not only can used as a garden kneeler during weeding, sowing, pruning and other garden activity, but also a comfortable garden chair help you siting and relaxing when you are tried, can greatly prevent back pain caused by stooping and reduce the pain of knee. This garden stool can be folded and easily to stored without taking up any space for you.
Easy to Carrying and Store - Comes with a detachable belt and 2 larger tool bag, hang the bags on your garden kneeler or connect it to a garden tool belt, making your garden work easier. This garden tool set can be folded and easily to stored only taking up any a small space. The foot pad protective covers can attached to the metal frame, preventing the garden seat from sliding on and damaging hard floor surfaces.
Unique Gardening Gifts - This gardening bench kneeler and seat set is a good gift christmas gifts also the perfect choice for your mother, father and friends who love gardening.

See on

Amazon
$64.99
19. Reacher Grabber Tool
Back pain is a commonality in 70-year-old's, so a reacher grabber tool makes it easier for them to reach that top shelf that is too hard for them to reach now. The grabber can also pick up things from the floor.
20. Robot Vacuum Cleaner
This is perfect for those 70-year-old's who simply do not have the energy anymore to clean. Give them the helper they need around the house with this gift. This gift is super intelligent and automatic, so all they have to do is set it off and watch it vacuum the entire place!
21. Cooking Appliances and Gadgets
Who doesn't love to eat? If you're trying to find a gift for someone who is handy in the kitchen or likes to grill every night, then consider this gift as a new tool for their culinary skills.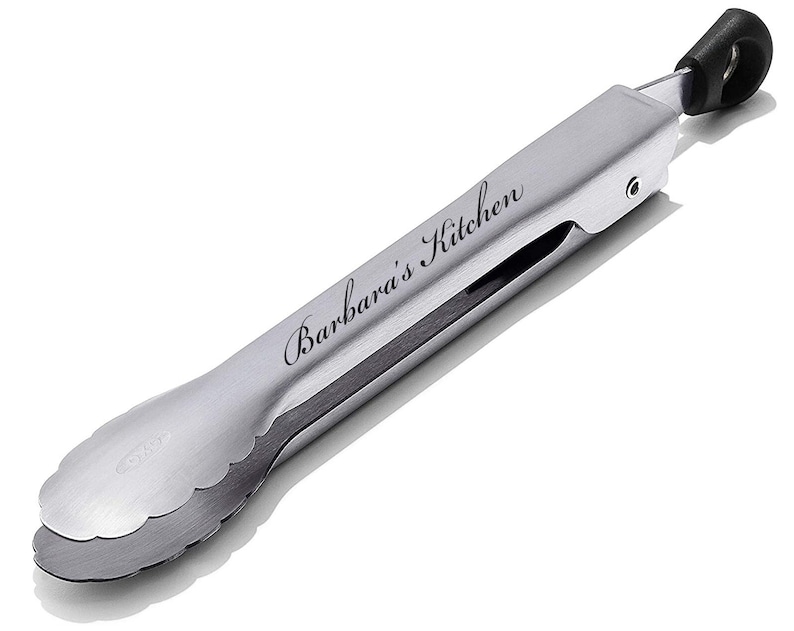 Personalized TONGS Utensil Gifts for Her Him Mom Women Gift Home Kitchen Cooking Cook Barbeque BBQ Chef Chefs Grilling Custom Engraved
? SHOP INFORMATION ? PrecisionMemory aspires to make your birthday, Christmas, father's day, mother's day, valentine's day, anniversary or any occasion unforgettable with our personalized gifts for him & her. • All Orders Ship within 24 hours! • Express Shipping Available. Please reach out to us with any questions! ? PRODUCT INFORMATION ? Compact size is perfect for serving appetizers Stainless steel construction is long-lasting and durable Scalloped edges securely hold food Ideal for removing pickles and olives from jars Tongs lock closed for convenient storage ? PERSONALIZATION DETAILS ? Please provide your desired custom font/text in the personalization box. Multiple lines are welcome. • See listing gallery images for font options. • Listing images are examples of similar previous work. PERSONALIZATION EXAMPLE: Font: Freestyle Script Text: David
See on

Etsy
$29.99
22. Automatic Pill Reminder
This is a gift that I would even want for myself because no one can ever remember precisely when to take their pills; each day runs into the other. A lot of medications that older people take are significant to their daily health, and thus, it is important that they do not forget it. So help your mom out and get her a pill reminder, so you will not have to worry about her again.
23. Rocking Chair
Older women enjoy rocking chairs because they now have the time in their lives to relax and enjoy the sunrise and sunset every day. Rocking chairs are entertaining and relaxing. She can nap, read a book, talk on the phone, or just sit and enjoy the silence.
24. 70th Birthday Shopping Bag
All the 70-year old women that I know love to shop at least once a week, so they should really have their own bag that they can take with them everywhere and be able to carry their items in one bag. She can use it for groceries at the market, or as a purse to go out and about, or just a tote.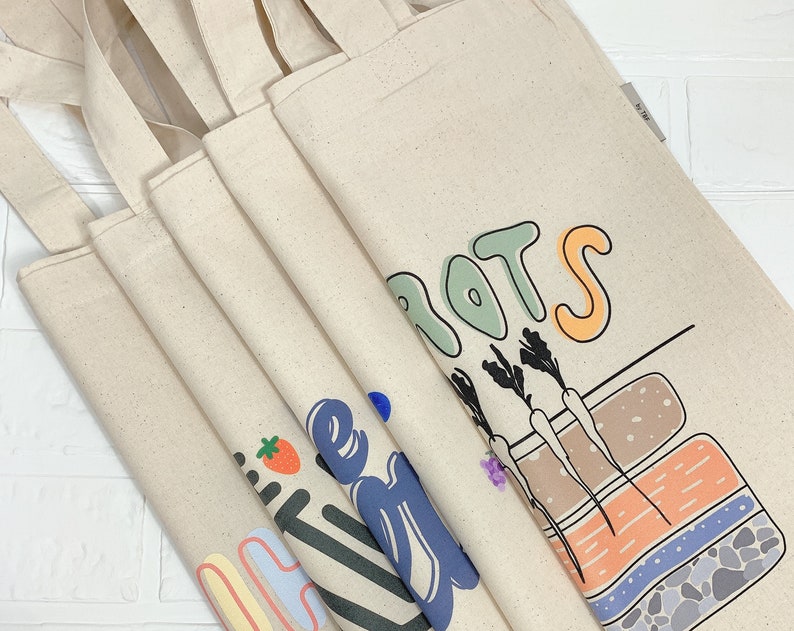 custom tote, customizable canvas tote, custom design tote, multicolor tote, square tote
?PLEASE MESSAGE ME BEFORE PLACING AN ORDER ? this is a canvas tote customizable to your design. please send me a png file of your design via email ([email protected]) and message me regarding any questions. through communication through email/etsy messages, i will then let you know which print option to purchase! [PROCESS/CARE] all of our products are printed individually by either me or my parents, and therefore may result in very slight variations in placement. the print of the design itself will be uniform as we utilize a computer-generated printer machine. please wash our products with cold water, and tumble-dry low or air-dry. [SIZE] 16"x 15" body [FABRIC] 100% organic cotton tote. chemical free. canvas type.
See on

Etsy
$12.00
25. 70th Birthday Gift Customized Apron
A woman who likes to cook and be in the kitchen should definitely have their own personalized cooking apron. The good thing about giving an apron as a gift is that it can be washed again and again and last for years! Every time that she cooks in the kitchen, she will think of you.
Funny Gifts for This Year's 70th Birthday for Mom
26. Prescription Coffee Mug
People in their seventies usually have to take lots and lots of prescriptions on a daily basis, so this hilarious prescription coffee mug is a comedy! This mug, shaped and painted just like a prescription bottle, could be a funny joke to your mom or an awesome reminder to her everyday morning to make sure that she takes her pills.
27. Senior's Texting Code Mug
So, maybe you think that your mom will not find the prescription coffee mug to be funny but...what about a texting code mug instead! No 70 year old nowadays knows how to use a cell phone, let alone know all of the texting codes that their grandkids are sending them. So, help mom out and get her a funny gift that will actually make them text savvy as well!
28. You're Only Old Once! Book
Get her to laugh about her old age by getting her the classic Dr. Seuss book that pokes fun about getting older.
29. Pinatas
Pinatas have been a time-honored tradition for many birthday celebrations and are a great way to involve guests of all ages. However, with it being your mother's 70th birthday celebration the need to spice things up is necessary. What better way of doing so than by having your pinata customized to look like your mother. Everyone will be shocked and amused by the fact of how similar the two look and it will be a great method to keep the celebration lively.
New Experiences for this Year's 70th Birthday for Mom
30. Yoga Class
We want our seniors to have a healthy retirement, so why not get them into yoga; great exercise for 70-year-olds. Getting them to be active and enjoy the activity is suitable for your conscience because you know that they will not just be sitting around all day during retirement.
Personalized yoga mat, yoga mat, gifts for her, yoga accessories, name yoga mat, customized yoga mat, custom yoga, custom exercise. yoga
Customized yoga mat. Sized 24" x 68" and 5mm thick - nice grip and super lightweight! THIS LISTING IS FOR A HAND PAINTED SINGLE NAME OR 2-3 WORD PHRASE. Choose from a rainbow of colors of mats and either black or white hand lettering. Customization faces yogi when on the mat, and is approximately 14" long. Please contact me for custom pricing on logos, long phrases, bulk orders, etc. Care: This mat is not made for hot yoga, please use in average room temperature to prevent personalization from wearing away. Mat can be cleaned by simply wiping clean with mild soap and water, please avoid painted area. Air dry. Made to order, contact seller for turnaround times. Quality guaranteed! Ships USPS priority mail.
See on

Etsy
$42.50
31. Trip Somewhere
Where have they always wished they had gone? Take them there! Create an adventure they will not forget, and don't forget to take lots of photos to capture the memory.
32. Symphony Tickets
Classical music is just that classic; everyone can enjoy it. If you are getting a gift for someone who loves the sounds of music, then take them to a relaxing evening at the symphony and then reminisce about it in years to come.
33. Casino Trip
Give the new 70-year-old a night on the town by going to the city's casino! Casinos are where all the fun is, and the 70-year-old wants a part of it. Set a limit for how much you both will spend and have at it for a night. Invite guests with these casino themed invites. Maybe you all will get lucky!
34. Theatre Tickets
Going to a live theatre show is such a unique experience that is a great gift because often, people will never splurge on themselves to buy their ticket. Give them the gift of a night of memories that they will not forget.
35. Luxury Cruise
The best trip for a senior is an all-inclusive cruise where all they need is right at their fingertips. A cruise makes for a trip efficiently planned and very affordable. Invite a few people to come along with these cruise themed invites.
Conclusion
With this, it is concluded that any one of these gifts will be perfect for this year's 70th birthday for mom. It is always the unique ideas that will shock your mom and give her something that she would never buy for herself. The price of the gift does not matter, especially for the 70-year old, it is the thought of the gift and the creativity that she will love you for.
It's also great to plan for the other birthday party ideas that would be great for adults including decorations and party favors that will make all of your guests happy. Take your time deciding on what your mom would like best and use the most and then go and order it right now!
Written by Helena Jones; Contributor: Julia Batista