Updated on: Nov 17, 2023
Having a baby is going to be a wonderful experience, but sometimes thinking of a theme to celebrate the little bundle of joy is challenging. If you don't want to find out the sex of the baby, you will want to look for ideas for including gender-neutral baby shower themes. We have compiled a list of our favorite ideas for having a super enjoyable shower! Take a look at these gender-neutral baby shower themes to figure out fun ways you can celebrate the new baby with family and friends. Here are some other ideas, themes, and checklists to make sure your baby shower is the talk of the town!
Books and Movies Gender-Neutral Baby Shower Themes
1. Story Time
When you have a new baby, they will all have that one book that they just love to have you read. So pick your favorite children's book and create a whole theme about it. Include invitations that will reflect the story, without giving too much away so they will still be intrigued about coming to your baby shower. Choose decorations, flowers, furniture, food, drinks, desserts, and even party favors that reflect the wonderful things about the book. So transport your guests into the book of your choice.
2. Disney Movies
Kids have always loved Disney movies and this is one of the greatest gender-neutral baby shower themes. So why not have a Disney baby shower that will be oh so charming to all of your guests. This theme allows you to get really creative. You could choose just one movie to focus on for your party or you could even do a couple of different movies and stories that are featured across the Disney universe. It's all up to you. If you do a multitude make sure you have hidden mouse ears somewhere at the party, and don't forget to feature the Disney castle.
3. Oh The Places You'll Go
A Dr. Seuss theme is perfect for a baby shower. The future is bright and the options are limitless. Pastel yellows, pinks, blues, and more will be the perfect soft decor to set the tone. Add travel elements like hot air balloons and airplanes to your decorations list. Food that fits the color scheme such as yellowcake pops, pastel marshmallows, and candy hearts is perfect.
4. Star Wars
This film series has gotten even more popular over the years. So why not prepare for your new little Luke or Leia, with a Star Wars theme baby shower. There are lots of Star Wars baby shower decorations out there! You can add a death star and lightsabers for decoration, have a Star Wars theme cake, and even incorporate Yoda cookies. A Star Wars party is sure to be the bash of the century. Just don't forget to teach your little Jedi about the way of the force once they are born.
5. Golden Books
If you liked the book theme but wanted to choose more than one book, you can go with the golden book's theme. The golden books are the ones from our childhood with beautiful golden binding. You can ask guests to bring their favorite story but decorate with lots of books and stuffed animals for this baby shower. The books you buy for the party and get gifted with will make sure that your baby will have lots of storytime with their mommy and/or daddy once it is born.
6. Winnie the Pooh
Get your baby ready to read and watch Winnie the Pooh one day by having a baby shower themed after the adorable honey-loving bear. By including Winnie the Pooh decorations, bright colors, and a woodland setting, it will put your guests right into the world of Winnie the Pooh and friends! Make sure not to forget the honey-based treats!
Seasonal and Colorful Gender-Neutral Baby Shower Themes
7. You are My Sunshine
The new baby that the happy parents are welcoming, is sure to be their little sunshine. So why not have a theme to celebrate that. Have a guest book that people can add their own thumbprints into or even a sunshine centerpiece for all the tables. Have your color theme be yellow and gray, and have the foods that you serve be yellow foods that go along with the whole theme. For decor, you could have a super cute sunshine garland! Dessert-wise you could buy or make cake pops that look like little suns or even some little sun cookies, to brighten up the whole party.
8. Baby it's Cold Outside
For a wintertime baby shower, you can do a theme of Baby it's Cold Outside. Hang snowflakes throughout your party, some fake snow on some of the tables, and cute little Christmas trees, and your decorations will dazzle everyone. For a fun addition, you can add a hot chocolate bar. Complete the food table with some white desserts such as white cupcakes, and maybe even some cute little snowflake sprinkles, for your own little winter wonderland.
9. Taco about a Baby for Cinco de Mayo
Who's ready for a fiesta to celebrate this baby. You can turn this into a Cinco de Mayo celebration. Like the name says the food for this theme has to revolve around tacos, so have a taco bar for your guests to make their own tacos. Include cute little fruit cups, and don't forget the churros, and your food table is already complete. For decorations add some pinatas, little cactus decorations, cacti wall hangings, flowers, and lots of bright colors to complete the look. For an extra level of fun, have little cactus party favors for all of your guests.
Mini Piñata Decoration Assortment - 12 Pc.
While these festive piñatas aren't really big enough to fill with your favorite wrapped candies, they make a fantastic addition to any fiesta party decorations! Whether it's your Cinco de Mayo bash or a southwestern-themed celebration, these mini piñatas will help set a festive scene. Papier-mché. (12 pcs. per unit) Assortment may vary.
See on Oriental Trading Company
$59.99
10. Showered with Love
Let your new baby know how much it is loved before it is even born with this theme. This is a cute theme around February for all those Valentine's decorations. You can have a cute little guest book that your guests can add their own thumbprint, or you could have adorable cloud wood pieces for your guests to sign before dropping them into a cute see-through box.
Decorate the party with lots of umbrellas and raindrop garlands. You could even make cute cotton clouds that you can hang from the ceiling, as well. Finish the party off with white and blue foods to bring the entire theme together.
11. Summer Garden
Have a beautiful summer celebration for your baby with this theme. Have your baby shower in a garden or just fill your party with flowers and other fresh plants, and also lots of citrus fruits. Have fresh fruits and lots of sweet and savory foods for the party and you will be able to feel like you are having a low-key celebration to just relax in the fresh air and wonderful sunshine.
12. Rainbow
If you want to have the colorful look of the color my world theme, but add another cute touch than just mismatched colorful and cute objects, you can go with a rainbow theme. Have a rainbow cake with rainbow-shaped cookies, and even a cute rainbow banner to hang from the ceiling. Add a few clouds to make it look like your guests are partying with the rainbows in the sky, and your baby shower is sure to be a magical event.
Felt Happy Birthday rainbow banner, rainbow Felt garland, kid birthday party decoration, birthday gift, zero waste birthday, girlfriend gift
Celebrate at Home! Felt rainbow Happy Birthday banner with each flag a different color of the rainbow! Great for celebrating baby's first birthday party! Can also be a great picture opportunity when you hang it on the mantle and then use it to decorate their room afterwards. Each flag is about 4" tall by 3" wide and they are on two separate strings - "happy" measures 36 inches and "birthday " measures 50 inches. The colors are in this order- red, pink, orange, yellow, green, light blue, dark blue, purple. I love making it customized so if you have an idea, just ask! Made of wool felt and cotton baker's twine because I believe in using the finest materials available. When taken care of, this banner should last many years. Try quality over quantity and go for zero waste! I hand cut all the letters myself and they have a natural quality that is unique and special. I hope you see a blend of earthy and pure while maintaining an elegant and timeless look. zero waste banner! Wool felt for long lasting quality. Also totally Biodegradable and compostable when you are finished with it. This felt is OEKO Tex 100 certified which is an independent, international certification that tests for harmful chemicals in the production process - there are none detected. I'd love to customize something for you, just message me! ***NOT A TOY***Decoration only!!!
See on Etsy
$49.00
13. Red, White, and Blue
For all the patriotic moms and dads to be, this theme is sure to be a hit. Or even for those expecting their precious baby during the summer, this theme is sure to sparkle. Add red, white, and blue everywhere. Have those colors on the cake, on the cookies, have all the decorations be those colors, and you are oozing patriotic vibes. For a fun little extra you can give party favors of sparklers, or even put them on the cake to celebrate the new baby.
14. Donut
This theme allows you to add any range of colors to your party! With donut-themed decorations and of course dessert, this theme will leave a positive mark on you and your guests!
15. Bunny Rabbit
Rabbits are sure to capture the hearts of many, and this theme is perfect for baby showers in the spring. Include different rabbit decorations and themed snacks to bring your party to life! Since rabbits are so tied together with Easter, feel free to use some of your own Easter decorations that are able to fit in with the theme!
5 Pcs Large Bunny Centerpieces for kids | Rabbit Easter, Baby Shower , Birthday Party Supplies | Spring Watercolor Bunny Table Decorations
This Large Spring Watercolor Bunny Centerpieces for kids : Made of high quality hard cardstock, could be reused, Colorful, bright, bright for Bunny Theme Table decorations. Set includes: 5 pieces Bunny Images ( 4,5 IN X 4 IN) 5 pieces Wooden Sticks (12 Inches) 10 Glue Dots
See on Etsy
$12.99
16. Citrus
For all the fruit lovers, this theme is perfect! This colorful theme leaves you to use any colors you desire, as well as various citrus fruit decorations and snacks!
Common Gender-Neutral Baby Shower Themes
17. Baby on Board Games
This theme is absolutely perfect for all the gamers of the world. Fill the party with different game pieces as decoration, or even giant versions of those game pieces. Fill the party with board games like Life, Monopoly, Scrabble, Chess, etc. Make baby games to play that center around the theme as well. For example, you could have a Scrabble theme game where guests can only make baby-related words. This whole shower will be loads and hours of fun for every guest who comes.
18. Baby Names
For gender-neutral parties, the sex of the baby is unknown, and so are the possible name choices for when the baby is born. So why not have a baby shower with the theme of names. Decorate the party with different names, and make some games to have your guests suggest what names they could name the baby boy or girl.
19. Travel
For the parents who want their child to have an adventurous heart, this theme is perfect. To incorporate a travel theme, you can add as many travel-related decorations as you want. Little things can hang from the ceiling, such as airplanes or small hot air balloons. You could even put little sailboats in the windows, and place little cars on the tables to further decorate for a travel theme baby shower. We think that hot air balloon garlands are absolutely A-D-O-R-A-B-L-E! For food, we recommend having sampler plates that feature the different foods of the world, which will give your guests lots of options.
14" Flags of All Nations Hanging Paper Lanterns - 6 Pc.
PERFECT FOR ANY EVENT: These hanging lanterns each feature a variety of countries' flags, making them perfect decorations for any event with international flair. From a food tasting to a goodbye party for a world traveler, these hanging lanterns are globally attractive.QUALITY DECORATIONS: These hanging lanterns are made from durable paper, so they won't rip or tear easily but will instead retain their shape for the duration of your party. BUDGET-FRIENDLY DECORATIONS: You won't find these hanging paper lantern decorations anywhere else at a lower price - guaranteed!CREATIVE USES: Ideal as a party decoration, hanging lanterns can be a great addition to an art project and look good enough to hang as decorations to impress customers or clients at a workplace.VIBRANT COLORS: Add pops of color to your event with these hanging lanterns. The black base of the lanterns helps the flags' colors pop and stand out!YOUR PARTY SUPPLY HEADQUARTERS: Shop Oriental Trading for unbeatable selection and guaranteed lowest prices. From decorations to tableware to party favors and more, we can help you party for less!Product Description:Planning a party for the upcoming international games? No matter what the event is, as long as multiple countries are involved - these paper lanterns make an excellent addition to your party decorations. Size: 14"Shape: RoundQuantity: 6Material: Paper.o Simple assembly required.o © OTC
See on Oriental Trading Company
$16.99
20. It Takes a Village
One of the most valuable assets for any parent is the community they have around them while they raise that baby. So use this shower to celebrate those people. You can have your guests RSVP with words of wisdom, that you can then use to decorate the party. Maybe even for gifts ask your guests to sign on for experiences instead.
You could ask your guests for "free diaper changes when asked" or "walk through the park with mom and baby." This can be a very caring way to show those closest to you how to be part of the baby's life.
21. Beach
For all the sea lovers out there this nautical theme gender-neutral baby shower will be perfect. You can have the party decorated with the cutest nautical decor. You could find cute little anchors, maybe some seahorses, sailboats, and even starfish. Have a color scheme of blues, whites, and gold to complete the look. Add cute little nautical desserts that are shaped like boats or even doughnuts that look like life preservers, and your party is all set.
22. Woodland Creatures
There may be some common gender-neutral baby shower themes that you may not want to do; however, a cute and common gender-neutral theme for a baby shower is a woodland-themed or animal-themed shower. Some people say foxes are a mystery, which is exactly what your baby's gender is. So go with this adorable animal theme that will allow for cute foxes as decoration, a pin the tail on the fox game, fox cookies, and even a cute little cake that could be tree-shaped with a cute little fox peeking out from behind it. This cute little theme will be sure to make all your guests say "aww."
EDITABLE Greenery Woodland Baby Shower Welcome Sign. Rustic Forest Animals Printable Decoration. Botanical Greenery Forest. WOOD24
MATCHING ITEMS https://www.etsy.com/shop/BlueBunnyPrintables?ref=hdr_shop_menu&search_query=WOOD24 DIY EDITABLE WELCOME SIGN TEMPLATE - WOODLAND FOREST PARTY DECOR Access your template within minutes of purchase and edit in CORJL, a self-editing template editor that allows you to personalize your printable directly in your web browser. No software to install or fonts to download necessary. ★★ FREE DEMO ★★ Try before your buy! Copy and paste the following URL into your browser to try out your free demo. https://www.corjl.com/d/24O61E ★★ WHAT YOU WILL RECEIVE ★★ - Editable Welcome Sign Template - Sizes included: 8x10, 16x20, 18x24, 24x30 and 24 x36 inches ★★ HOW IT WORKS ★★ 1. After purchasing, you will receive an email shortly from 'Corjl' to the email associated with your Etsy account. The message will include a link. After creating a Corjl account, you'll be able to access your purchased item. You can also go directly to Corjl.com and enter your Etsy email or Username and Order number (not transaction number). 2. Personalize your item, then save as JPEG or PDF format 3. Print, email or post it to Facebook. ⚠️ IMPORTANT - PLEASE READ ⚠️ • TEMPLATE EXPIRES after 90 days - You will need to re-purchase the file if you wish to access the template after 90 days have passed. • All text fields are editable, however artwork, template size and orientation CANNOT be changed. • Files/templates are sold as seen. You are responsible for editing the template yourself. ★★COLOR VARIATIONS★★ Please note that printed colors may vary slightly from what you see on your computer monitor because all monitors display color differently as well as all printers print differently. ★★TERMS OF USE★★ Once this listing is purchased, you are licensed to use the template for a SINGLE project or event. Creating multiple versions for various projects or events are NOT permitted. You can edit, save and download the template as many times as you wish for editing and proofing purposes only. Your template will expire after 90 days from the day of purchase. Should you breach the Terms of Use, we reserve the right to cancel or suspend your access to the template. ★★REGRET★★ Due to the digital nature of the product, we offer no cancellations, returns or exchanges. But please contact us if you have any problems with your order. ★★COPYRIGHT★★ © Blue Bunny Printables. All images, designs, and text are copyrighted and may not be copied, reproduced, shared or distributed in any form. Personal use only. Commercial use of our products in any way will be considered a copyright violation.
See on Etsy
$7.41
23. Brunch
If you are looking at our theme ideas and want something more simple, have a lively brunch or breakfast party. Give the mother-to-be a relaxing morning with friends and family. Serve classic brunch food such as quiche, cinnamon rolls, and pancakes. Don't forget you can have cute mimosas, nonalcoholic of course. Add to the enjoyable ambiance plenty of fresh-picked flowers and bright white tablecloths.
24. Rustic Boho Chic
A rustic boho event is fun for the classy and chic new mother. Gather wood grain plastic tablecloths and set a lace doily in the center. Finish with a clear milk bottle centerpiece filled with beautiful baby breath flowers. Keep the rest of your decorations simple and boho with lots of white and greenery, with wooden accents. For a fun activity, get supplies and have everyone make their own unique flower crowns. For making flower crowns, supplies you will need are wired floral twine, floral tape, greenery, assorted florals, wire cutter, stem wire, and greenery!
Wooden Baby Shower Confetti - Wooden 'Baby' Table Confetti - Eco Friendly Baby Shower - Botanical Baby Shower - Hey Baby
***ALL INTERNATIONAL ORDERS WITH GOODS VALUE OVER £10 SENT TRACKED AS STANDARD*** Scatter your table with this wooden baby shower confetti to compliment your natural baby shower table decorations. Contains 18 Wooden Confetti Pieces Measuring 7cm W x 11.5cm H Our Botanical Baby range is made of natural materials with no harmful finishes for the eco-concious mummy to be. Take a look at the rest of the range to create a stunning eco baby shower! https://www.etsy.com/uk/shop/LittleOrchardCraft?ref=seller-platform-mcnav&search_query=Hey+Baby Sign up to our mailing list for an instant 10% off of your order! https://bit.ly/2rIBjNs PLEASE NOTE THAT STANDARD SHIPPING FOR INTERNATIONAL ORDERS BELOW £10 IS NOT TRACKED. IF TRACKED SHIPPING IS REQUIRED ON ORDER VALUES BELOW £10, PLEASE SELECT THE RELEVANT SHIPPING UPGRADE AT CHECKOUT. At this time, it is my understanding that standard international orders are taking around 2-3 weeks to arrive from dispatch (4-5 weeks for Canada). Inconsistencies with global services remain and as such, PLEASE EXPECT YOUR ORDER TO TAKE LONGER THAN ETSY'S ADVERTISED ESTIMATED DELIVERY TIMES TO ARRIVE. International tracked & signed orders are currently taking around 1 - 2 weeks to arrive, but again this is not guaranteed.
See on Etsy
$4.38
25. Glamping
Lastly is glamping! Take the party out for some nature but camp in style. This is a good idea if you want to celebrate for a weekend instead of just a few hours. Having a baby is a beautiful thing so it is a good thing to celebrate as long as you want. This is a fun experience to just enjoy yourself before the baby comes and the rest of the party can have a fun time as well to all enjoy one another's company.
26. Duckling
Everyone loves the cuteness of a duckling, and theming your baby shower after one will leave you and your guests' hearts melting! By decorating with duck theme decorations and perhaps some snacks that mimic the look of the animal with some duck-shaped cookies, this will make your party one of the cutest that anyone has been to!
27. School
This idea is perfect for any teacher throwing a baby shower! Incorporate the school theme into anything you can, such as a chalkboard sign-in sheet, food served on cafeteria trays, story time to give advice, show and tell open your gifts, and anything else you can think of! Having this theme in the fall is perfect for that back-to-school feel, but that doesn't mean you can't have it in any other season! Just don't work your guests too hard!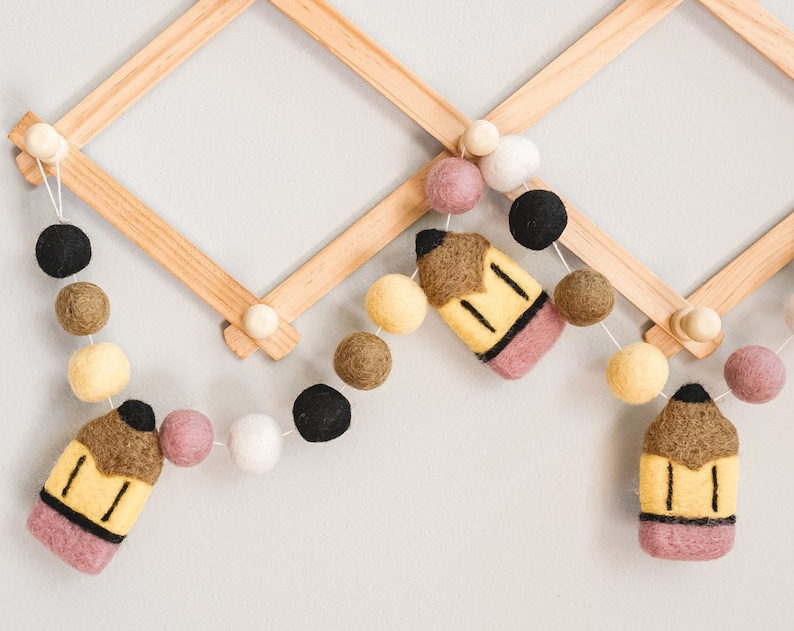 School garland, teacher garland, school decor, teacher decor, school party, teacher gift, pencil garland, school room decor, homeschool
What a better way to finish off your classroom or school decor than with this pencil felt garland! Comprised of felt pencils and felt balls, this garland would be perfect for a mantel place, bookshelf, picture wall, or to liven up a classroom! Felt ball garland is a versatile, reusable, and eco-friendly decoration that adds a beautiful touch to any environment or occasion! Colors: Pencils (5) + White (5) + Blush (5) + Yellow (5) + Peppercorn (5) + Black (5): Total of 30 felt pieces. Length: 6 feet long once felt pieces are EVENLY SPACED apart. Details: *Felt balls are handmade in Nepal out of 100% wool and measure roughly 2 cm (.79 inches). *The garland is approx. 6 feet long once balls/pencils are evenly spaced out. *The garland is approx approx. 27 inches (2.25 feet) without spacing the felt pieces apart. *Fell balls/pencils are strung on a strong white cotton thread with loops at the end for hanging. *Each ball/pencil is sewn on the string but is not tied in place, allowing you to customize the position of the felt balls with a gentle tug. ~~~~~~~ The colors may vary slightly due to computer monitors.
See on Etsy
$24.95
Conclusion
No matter how you choose to celebrate your new little bundle of joy, these unisex/gender-neutral baby shower themes will help you do so. They work for either gender so you won't have to stress if you have a little boy or a little girl once they come. So have fun with this baby shower, and don't worry about any of the other details that you may need to already worry about. If you are looking for cheaper options for your baby shower, check out our Cheap Baby Shower Ideas or Baby Shower Budget. If you enjoyed this blog, visit our other baby shower blogs at easyeventplanning.com!
---
Help Me Find
---
Written by Felicia Bucholz; Contributors: Jack Leduc, Avery Patterson, Allison Knowles, Mariah Haines, and Max Kahn