40 Easy Boat Theme Party Ideas
Boat theme parties can be a lot of fun to throw. Invite your guests to an awesome day at sea with the right nautical flair to make your boat theme party awesome! Using our tips that cover everything from boat theme invitations to party favors, you're sure to host the best nautical party your friend group has ever seen!
Boat Theme Party Decorations
For a boat theme party, your party space should look as if you are at sea. There are so many options that it may be hard to choose your perfect nautical theme party decorations! That is why we have compiled a list of sailing party supplies and ideas below for your nautical theme celebration.
1. Boat Theme Pennant Flags
A great sailboat decoration idea is to purchase nautical theme pennant banners to hang in your party space. You can hang them on the walls or make them 3D by stringing them across the ceiling.
2. Colors
When decorating for your party it is important to decorate with certain colors to keep your party theme. For example, use colors like white and blue when decorating to keep up with the ocean and sailor theme. Use these colors when you purchase tableware, ribbons, balloons, and streamers.
3. Wall Décor
One way to decorate your party walls would be by hanging life preservers and/or plastic anchors around the room to fit the boat theme. Another perfect decoration would be to drape fish netting from the ceiling and on the walls to add to the nautical theme.
4. Boat Theme Party Photo Props
The perfect accessories to match your boat-themed photo shoot would be an assortment of nautical photo booth props. These aquatic-inspired cut-outs are sure to make for some fun and memorable pictures. If you are looking for a cheaper alternative, you could purchase the digital PDF versions of these props and print/assemble them yourself!
5. Bubble Machine
Set up an automatic bubble machine to release bubbles throughout the party. This will be just like the air bubbles from the submarine under the water. Placing bubbles on the tables will also encourage guests to pick up the bottle and create bubbles themselves.
6. Boat Theme Party Table Toppers
A great way to bring the whole theme together would be with nautical table toppers that are sure the wow your guests. These centerpieces are eye-catching, and can even be used to number your tables so guests can their seats easier!
Boat Theme Party Favors
The easiest way to get your guests to remember their fun time at your bash is to give them nautical theme party favors to take home with them. That is why we have compiled a list of sailing theme party giveaways for you to give out at your party that is sure to make your guests remember you for a lifetime!
7. Nautical Goodie Bag
A fully stuffed boat theme goodie bag is always a great choice when it comes to party favors for your guests. Items that you can put in a nautical goodie bag can range from fish theme pencils and erasers, fish gummies, bubbles, blue candies, mini kaleidoscopes, you name it. Use nautical theme goodie bags or tinted blue goodie bags to represent the ocean water.
8. Beach Goodies
Keeping with the nautical theme, why not give your guests beach theme favors? These can be sand pails, sand shovels, and beach towels. If you're trying to save money give one bucket or beach favor to each family that comes to the party instead of each to one guest.
9. Sand Dollar
Buy toy sand dollars to use as place cards for your guests. To do this get a paint pen or some sort of marker and write the guest's name on the sand dollar. Then, set it at their table and allow them to take it home as a favor!
10. Keychain
An anchor keychain is a simple but practical party favor to give your guests. It's useful, and will always remind your guests of the fun time they had at your boat theme party.
11. Fun Sailor's Caps Ideas
Give each guest a sailor's cap or captain's hat. You can hand these out at the beginning of the party for guests to wear throughout the night and to get everyone in a nautical spirit!
Boat Theme Party Food and Drinks
You don't want your guests to feel like they are stranded at sea with nothing to eat! Therefore, we have compiled a list of nautical themes party menu ideas for you to serve.
12. Drink Picks
Try to serve drinks that evoke the sea at your party. Cocktails like Mai Tais, Pina Coladas, and Margaritas will all remind your guests of sunny days spent by the ocean or poolside and will be perfect for your party. A cute way to serve a drink would be with on-theme sea cocktail picks.
13. Apple boats
Make boat theme snacks for your guests by cutting apple slices and cheese. The apple slice is the bottom of the boat and then the cheese is the sail. The mast can be made out of a pretzel or a toothpick. This will be a menu winner.
14. Shrimp Cocktail
A shrimp cocktail is a great boat theme appetizer. Make sure to have plenty of dipping sauce to serve with it.
15. Seafood
An obvious choice for your nautical theme party – seafood! Your guests will be expecting seafood so go all out. You can serve salmon, mahi-mahi, shrimp, anything that dwells beneath the waves! You can also add other food items like pasta and stuffing so your guests can mix and match. Having a variety of under the seafood will bring your theme to life.
Mussels – Mussels are a must for a sailboat meal.
Breaded Fish – For a lighter seafood taste try breading fish, such as halibut or salmon, and serving it with a tasty sauce.
Oysters – Oysters are a favorite seafood option. Arrange them on a platter for your guests to eat.
Steamed Lobster – Serve steamed lobster with steamed vegetables and baked potatoes for a traditional New England seafood entrée.
Lobster – If you are having a formal party or if you have the budget for it, serve your guests lobster as the main meal.
Crab Legs – Crab legs are another excellent seafood option.
16. Pizza Rafts
Buy pizza bagels at your local grocery store and say that they're life preservers!
17. Floating Fish
Looking to entertain the kids at your party? Grab some blue Jell-O and put it in a bowl. Then, get fish gummies from the grocery store and place them in the Jell-O. It will look like fish that are swimming in the ocean.
18. Crab Croissants
Did you ever notice how similar croissants are to crabs? Simply fix edible candy eyeballs in place on the croissants with icing, and voila! Your croissants have been converted into crabs in an instant. The world is your oyster when it comes to fillings. As a savory option, go with staples like ham, cheeses, and veggies. For those with a sweet craving, add jelly or chocolate.
19. Cookies
For dessert, serve cookies cut into nautical shapes like sailboats and starfish. If you want to make your own cookies, boat theme cookie cutters are a must!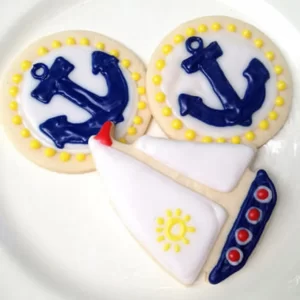 20. Boat Theme Cake Ideas
No party is complete without a cake. A great idea to create a nautical cake is baking a two-layer round cake and cutting a hole in the middle. Frost it with wide alternating red and white stripes like a life preserver. Another idea would be to theme your cake to make it look like sand. Buy some beige or brown icing to ice your cake to give it a nice base. Then add some beige sprinkles or crushed graham crackers on top of the frosting. It will give the "sand" texture.
Beware of having too many unhealthy sugary snacks! Refer to our recommendations for health-conscious alternatives!
Boat Theme Party Games and Activities
Nautical themes can also evoke lots of different emotions from people. So try and evoke an emotion of fun and excitement by playing these awesome sea boat theme activities at your next nautical theme party!
21. Temporary Tattoos
Help your guests feel like actual sailors with a temporary tattoo station. Make sure to have nautical tattoos such as anchors and palm trees.
22. Boat Theme Party Photo Backdrop
A great way to make permanent memories of your party is to set up a photo booth section complete with a boat-themed photo backdrop for all of your guests to take pictures in front of. It is an easy and affordable way to make lasting memories that can be looked back on for years to come.
23. Don't Say…
To begin, give each player a bag of treasure. The treasure can be plastic or chocolate coins, fake jewels, etc. Then, choose several words such as beach, yacht, nautical, ocean, waves, or boat. Write them onto a large whiteboard or piece of paper and hang them up. If any player says one of these words after the game has begun, they must give up a piece of their treasure to whoever called them on it. Award the player who has the most treasure at the end of the game.
24. Sand Bottles
If you're looking for a fun activity to do with the younger kids at your party why not have them make sand art? To do this, set aside a table at your party with bottles and different colored sand. Then allow the children to put the sand in the bottle in any sort of design they want. Have them take it home as a favor!
25. Crab Race
Have your guests split up into at least two teams. Then have them crab walk from one end of the room to the other. Once they return the next person on the team must go. The first team that has every member finish wins!
26. Obstacle Course
Set up an obstacle course at your venue for the kids or adults to maneuver through. To make it fit your theme set up a bell at the end so the first person to finish can ring the "captain's bell".
27. Nautical Tug-O-War
Split your guests into two groups and give them a rope. Then, have them play tug of war and tie a flag around the middle of the rope. The first team to get the flag over a specific area is the winner!
28. Treasure Hunt
Give each party guest a 1 foot piece of rope and give instructions for a variety of nautical knots like a reef knot or rolling hitch. Set a time restriction for visitors to tie their own knots. This is a great icebreaker and could also make as an excellent party favors that guests can play with at home.
29. Tie the Knot
Give each party guest a 1 foot piece of rope and give instructions for a variety of nautical knots like a reef knot or rolling hitch. Set a time restriction for visitors to tie their own knots. This is a great icebreaker and could also make as an excellent party favors that guests can play with at home.
Boat Theme Party Supplies
30. Nautical Theme Plates and Napkins
In order to stay on theme, you will need appropriate dishware to serve with the food for your guests. Nautical theme plates and napkins are the perfect addition to your party supplies list because they bring the whole aesthetic of the party together.
31. Table Confetti
Use miniature nautical-themed anchors and paper as table confetti to jazz up the look of your food or sitting tables. Alternatively, if you prefer a more beachy feel, you could add seashells and sand to the tables.
32. Nautical Cupcake Toppers
If you are looking for a way to spice up your dessert presentation, boat-themed cupcake toppers are a perfect choice. Not only do they add a cute addition to your cupcakes, but they can be used to top any type of food you are serving, including fruit bowls, shrimp cocktails, or even a boat-themed cake.
33. Boat Cupcake Stand
If you decide to serve cupcakes at your party, a great way to showcase them would be with a boat theme cupcake stand!
34. Take the Helm
An inflatable boat wheel allows everyone to be a captain and pretend to steer the ship! It's an excellent addition to a nautical photoshoot or just a decoration on the side. It also works nicely as a prop for creative play during a children's party. You could also place one on your cake table to give detail to cake picture shots.
35. Boat Food Party Trays
Boat shaped party food trays make it easy for your guests to serve themselves from the table. And boat-shaped models lend a fun twist to your nautical decor. Two distinct portions at the front and back allow diners to distinguish between a sweet or savory cuisine. And a convenient beverage holder in the center console will keep them hydrated as they socialize.
Boat Theme Party Invitations
Boats are an essential icon for these events, but there are other options as well. Try one of these fun boat theme party invitation ideas.
36. Passport
Create a passport for each of your guests out of cardstock. Write your party information on the inside left flap of the passport. If you have pictures of all of your guests put them on the right side. Add official-looking stamps and seals for greater effect. Alternatively, you can buy premade sets of blank passports if you prefer.
37. Nautical Theme Online Invitations
If you prefer sending your party invites online instead of through the mail, there are plenty of nautical theme online invitations to choose from. You can never go wrong with a blue and white theme!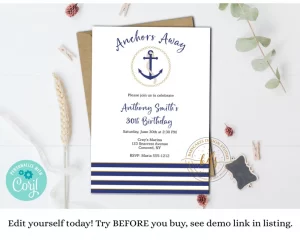 38. Message in a Bottle
Fill several plastic or glass bottles partway with sand. Write your party information on a piece of paper then roll the paper up and slide it inside the bottle. Close the bottle with a cork and stick a mailing label onto the side. This creative idea is sure to delight your guests with its dramatic flair!
39. Under the Sea
If you want to go for more of an ocean concept for your boat party invitations, try under the sea theme invitations. These invitations are sure to get your guests excited for your party.
40. Cruise Boarding Pass
A fun way to invite your guests to your boat themed party is by sending them cruise boarding pass invitation templates with your party information. Headline the invitations with creative titles like "Set Sail on Your Birthday Cruise".
Conclusion
With our suggestions, your boat theme party will be off to a great start. But our tips for décor, games, and favors are just that. Use our tips as a stepping-off point and keep the boat party afloat!
Written by Shannyn Apolaro, Jessica Bundy and Aditi Parikh; Contributors: Vanessa Marsocci, Jack Leduc, Mira Hemaidan and Maggie Betros