Updated on: Jul 19, 2023
Are you looking for a fun, unique 1st birthday party theme idea for your handsome little guy? In order to fully celebrate the love and happiness that your birthday boy has brought to friends and family, you have to make the party memorable. Food, decorations, and the perfect photo setups have the power to bring the party to life.
Whether your ideal theme is wholesome, silly, or destination-based, you're bound to find the perfect kid's theme that will work for you (and your Instagram)! Take a look at these baby boy first birthday party ideas for a truly special party that will leave your sweet boy delighted and your guests impressed. We can help you find the best location and gift ideas for your little one.
Top 43 1st Birthday Party Themes
1. Mickey Mouse & Friends
This adorable theme brings the magic of Disney right to your party. Decorate cupcakes with white frosting and stick Oreos on each side to resemble Mickey Mouse ears. Accessorize with plenty of colorful streamers and balloons.
Dress your son up in a red shirt, black pants, and DIY Mickey Mouse ears. Create your Mickey Mouse ears by cutting thick black card stock paper in a round shape and taping (or hot gluing) them to an old headband or hat. This magical theme is sure to bring a smile to the birthday boy's face and all the guests.
25 Pcs Cartoon Mouse Birthday Party Supplies Cartoon Mouse Balloons Party Decorations Include Mouse Foil Balloons Happy Birthday Balloons for Kids Baby Shower Party Decorations
Value Cartoon Mouse Balloons: Include 25 pcs mouse balloons: 2 pcs cartoon mouse balloons (32 Inch), 1 pcs cake balloon (33 Inch), 1pcs bow foil balloon(35 Inch), 2 pcs patterned mouse head foil balloons(27 Inch), 2 pcs blue mouse head balloon(18 Inch), 2 pcs star mouse balloon(18 Inch), 2pcs round mouse balloon(18 Inch), 13 pcs happy birthday balloon (16 Inch).
Easy to Use: They are made of safe aluminium foil.They are thick,self-sealing and leak-free. These cartoon mouse party decorations are easy to expand in the air and all foil balloons support helium filling. Pinch the inflation inlet flat after inflation being completed. The air outlet will be automatically sealed by its matched self adhesive glue of the balloons inlets. Automatic sealing.
Unique Styles: Have fun with cartoon mouse party decorations! All the styles of cartoon mouse balloons are carefully selected by our team. blue and white birthday letters add a little fun to the party. Cartoon balloons in the shape of a birthday cake fulfill all your kid's birthday fantasies. The cartoon mouse balloons are made of premium aluminum film, which are not easy to burst.
Cartoon Party Decorations: Do your kids dream to become an astronaut? Let our cartoon mouse balloons satisfy your children. Blue is the color of the sky, giving your kids unlimited imagination.For cartoon themed parties, 1st 2nd 3rd birthday party, baby shower, photography props and room decoration. Super easy to use and convenient, so funny and cool.
100% Satisfaction Service: If you encounter damaged packaging or missing items with mouse party decorations , you can contact us at any time, and we will solve any problems for you within 24 hours. Wish you have a nice purchase experience.

See on

Amazon
$13.99
2. Candyland
What one-year-old wouldn't love to experience the sweet life of Candy Land? Put a banner up that designates your venue as "Candy Castle" and decorate with Candy Land birthday decorations. Dress your majesty in a King Kandy crown and staff for the perfect photo ops. Bring out the Candy Land board game as well as other board games to keep the younger guests entertained.
3. It's a "One-derful" World
Show your son's adventurous side with a fun traveling theme for his party. Hot air balloons, globes, and suitcases make the perfect accessories. Make DIY suitcases to hold food and refreshments by covering boxes in brown paper. To showcase your son, hang pictures from each of the past 12 months on the wall and cut out paper planes in between the pictures, guiding your guests through a year in pictures.
4. Dinosaur
Impress your guests with a dinosaur theme party, included with fun dino party hats and lots of green balloons and paper leaves. Buy small dinosaur figurines and secure them on the top of your cake as cute cake toppers. Play into the theme by using crushed Oreos for "dirt" and peanut M&Ms for dinosaur eggs. As for your smash cake, use dinosaur cutout fondants or simply decorate with colored frosting.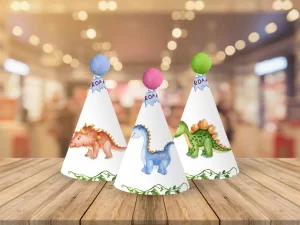 5. Monsters, Inc.
Surprise everyone with this amusing theme for your little monster! Cut out paper door decorations, tape photos inside, and hang them on the wall with string – just like the door chase from the movie! Challenge your guests by holding a monster-drawing competition. A perfect dessert for the fun party? Mike Wazowski cake pops! Simply coat cake pops in green melting chocolate and use frosting to make Mike's circular eye and mouth.
6. Minions
Decorate your party space in minion accessories for your little guy. Embrace the minion theme by placing yellow food out for guests. Cut out round paper glasses for your guests to wear, and voila - you have an army of minions. Dress your boy up in a yellow shirt and overalls. Everyone attending (including parents and siblings) can dress up too! Your 1 yr old boy will be filled with joy.
7. "The Big One"
Your guests will love this cute play on words. Hang up blue streamers with paper fish cutouts (or fold a blue tablecloth with fish cutouts over the food table). Hang a banner that says "O-fish-ally One" or "Reeled in the Big One".
8. Fall Festival
This fall festival theme is perfect for the cozy and cute fall birthday boy. Set the tone with fall leaf wall hangings and cute scarecrows. Play "pin the leaves on the tree", or let your guests paint/decorate their own mini pumpkin! Make sure to keep everyone happy with apple cider and pumpkin cupcakes.
9. Space Theme
Your little guy is "Out of This World" and deserves a cool space-themed party! Incorporate the galaxy, stars, planets, and the moon into food and decorations. Swirl navy, purples, and pink colors to frost cupcakes, and top with small white sprinkles for the coolest galaxy cupcakes. Print out pictures of the planets and attach to cake rods for out of this world cake toppers.
10. Bunny Garden
As for the spring and summer babes, this is a charming and precious theme for your party. Make sure to decorate with soft pastels, veggies and dip, and fresh flowers! Entertain your younger guests with a fun egg hunt or classic Easter games.
11. "The Man"
Commemorate how fast your son is growing by throwing this silly party. Get fake mustaches to provide to guests. Let them choose their preferred mustache to wear to the event. Want to keep the older guests entertained? Set up poker games!
12. Safari
Hand out different animal ears to your guests to bring your party to life. Play safari jungle music and make sure to decorate with green and gold balloons. If your little guy will allow it, a tan bucket hat will complete the perfect safari outfit. Include a stuffed animal for the perfect photos.
Set up a snack bar with a banner that says "Power Up", and sprinkle the array with gold chocolate coins. DIY red and green hats with a felt "M" and "L" for guests to dress up as Mario and Luigi, and let the games begin!
14. Storybook
Choose your son's favorite book and bring it to life! Some classic favorites are Goodnight Moon, The Rainbow Fish, and any Dr. Seuss book. Take the book and decorate it with classic colors and any food or ideas from the book.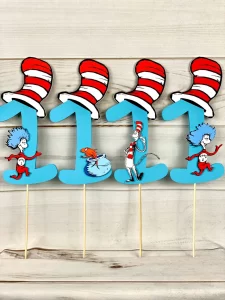 15. Rock-n-Roll
Celebrate your rockstar with an amazing fun-loving music theme. Purchase some cheap vinyl records, paint or cut out red and orange flames, and tape pictures of your boy's first year before securing them on the wall. Cutout black music notes and guitars to hang on the wall to really set the tone.
This playful lego theme is fun for a party, especially if you have other young guests coming. Tape red, green, blue, and yellow paper plates on the same colored paper for lego decorations.
17. Camping
For the outdoor family, a camping theme is sure to wow your guests. This theme perfect for an outdoor backyard or park party. Set up lanterns and fill mason jars with string lights . Drape brown fabric around your food station to look like a tent. Set up hotdogs, sandwiches, or chili. And don't forget the s'mores!
18. Transportation
Does your little guy love cars, trucks, and trains? Sterilize dump truck toys and fill them with snacks, hand out conductor or construction hats, and hang paper airplanes from the ceiling. For an adorable photo-op, cut some cardboard in the shape of the front of a car or train, and paint the details on it. Leave a square cutout in the front for your guests to take pictures as if they were driving the vehicle.
19. Little Lumberjack
Another perfect fall party theme is a "little lumberjack" theme. Dress your cutie in soft flannel, decorate with lumberjack accessories, and put up a green leafy garland. Make a cake and cover with brown frosting. Then, run a fork up and down the cake to make indents that resemble a wood log.
20. Bubbles
There is something so innocent and delightful about bubbles. This theme will be sure to capture a special moment. Balloons, donuts, bubbles bring this theme to life! Want to impress your guests? Fill a kiddie pool with dish soap and water. Then, use a hula hoop to create the coolest bubbles that will amaze everyone.
21. Race Car
Decorate your space with black and white checkered finish line flags, create a "pitstop" table, and set out gold trophies filled with fun snacks and drinks. Easily add to the theme with hot wheels toy cars placed around your party space. Give your little man a plastic trophy to take the perfect photos of him celebrating his big achievement.
22. Superhero
Let your son live the double life for a day by throwing him a superhero party! Create plenty of superhero masks for guests to wear. Use Spiderman, Superman, and Batman products to set the tone. Complete the look with a cape for your superhero to wear!
23. Circus
Invite your guests with invitations that look like circus admission tickets. Pin red and white pinstripe banners or streamers around the space. Animal crackers, popcorn, and donuts are the perfect food for this fun theme. If you have games for the younger guests, give out tickets and let them exchange them for prizes! This funky yet funny theme will fill up your child's happiness and excitement.
24. Rainbow
Celebrate the big day with this lucky charm! Fill your space with plenty of color by making a DIY rainbow out of streamers. Lead the streamers in the direction of the "pot of gold" (aka the cake)! For extra giggles, dress your son in green to make him the lucky leprechaun. This colored theme is sure to brighten everyone's mood!
25. Cupcakes
If you're looking for a more simple theme, this perfect theme will satisfy everyone! Get some cupcake balloons and cut out construction paper into cupcake shapes to pin to the walls or use as food toppers. To keep younger guests entertained, make a DIY cupcake bar! Let everyone create their own yummy masterpiece.
26. "Bear With Me"
This adorable theme is sure to capture your son's sweet side (especially if he has a favorite teddy bear). Tie a thick brown ribbon into a bow around your cake! Use a teddy bear as a paperweight to hold a bunch of balloons. For an extra flair, set up a teddy bear picnic! Decorate your space with classic picnic materials such as a plaid picnic blanket, and serve sandwiches and crackers to enjoy with your guests and huggable teddy bears. Serve teddy graham crackers and gummy bears to embrace the theme!
27. "Bee-Day"
Get him ready for his first bday with some awesome yellow and black decorations! Decorate your cake with black and yellow stripes, flowers, or honey graham crackers. Dress your son up in black and yellow to have him be the bee! Sunflower and honeycomb decorations will create a happy atmosphere for your "honey".
28. The Very Hungry Caterpillar
This adorable story has many opportunities to create the perfect party. Cut up colorful fruit and veggies and arrange them in the shape of a caterpillar, and let the kids finger paint their own hungry caterpillar.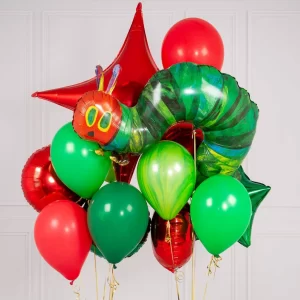 29. Sea
Transform your space into an under-sea exhibition. Cut the bottom of hotdogs into strips to look like octopuses and decorate a beautiful blue ombre cake. For decorations, fill tall vases with water and a little bit of blue food coloring, and add fish tank props and toy fish. You can also take clear umbrellas and hang party streamers from the top to create your own jellyfish props and costumes.
30. "Number One"
For your sports star, have a fun sports theme party. Give out mini trophies as prizes for party games. Cover your tables in a soccer or football field tablecloth, and don't forget to grill hotdogs and hamburgers and set up a condiment bar. For memorable photos, dress him up in his favorite jersey and hat and let him enjoy the attention.
31. Winnie-the-Pooh
Paint flower pots with yellow drippings from the top, and write "Hunny" for the most adorable Pooh Bear's pot of honey. Bring the lovable characters to life with banners and paper cutouts, or even create Pooh Bear, Eeyore, or Piglet ear headbands for guests. For an easy DIY costume for your little guy, dress him in a red shirt and yellow pants.
32. Donuts
Another simple and sweet theme that everyone will love. Serve donuts on a homemade donut wall! Simply stick wood dowels on a piece of plywood with drilled holes and hang donuts from the dowels. Decorate with donut balloons or wall hangings. Include a banner that says "Donut Grow Up" if you're reluctant to believe how fast your sweet boy is growing.
33. Pastels
Darling pastel colors will be sure to set the tone for a beautiful party for your birthday boy. Get white decorations such as cake stands and party chairs to perfectly accent the pastels. Soft blues, pinks, and yellows will work perfectly to set a peaceful and happy tone.
34. Forest
For your adventurous boy, a forest theme is super fun and unique. Tear different shades of green and brown construction paper and tape to the wall to create a fun and abstract tree mural. Accessorize with cute fox and bird decorations to add to the environment. If your party is outside, hang lanterns and string lights for a cozy and mysterious glow. Give your guests flower crowns and enjoy the lovely outdoors.
35. Cowboy's "First Rodeo"
Bring the rodeo to your party by decorating your saloon with lots of wild west theme decorations. Make cowboy caviar by mixing corn, beans, tomatoes, avocados, onion, and more. Bring cowboy boots and cowboy hats. Cut out a square on a large piece of cardboard and write "Wanted" on it with black letters for a fun photo opportunity. Challenge your guests to a makeshift lasso game by tossing rings around bottles!
36. Nautical
Make sure your little sailor sails into his next year with a fun nautical theme party. Fold paper sailor hats for your guests, decorate donuts with white and red icing to look like buoys, and hang anchor and lighthouse wall decorations around your party location.
37. Suit and Tie
Make this special occasion memorable with a fancy event. Dress your little man up in nice clothes and tell your guests to dress up in fancy attire. Enjoy easy-to-make hors d'oeuvres, such as sandwich roll-ups or deviled eggs. Decorate the room with black, white, and gold colors! Finish off the day by making a grand toast for the birthday boy!
38. Tropical
A tropical party theme is perfect for the Summertime (or even for a fun surprise in the winter)! Invite your guests to a Luau and serve pineapple, mocktail drinks, Hawaiian rolls, and kebabs. Make cute cupcakes with blue frosting to represent the ocean, and sprinkle crushed graham crackers on top for sand. Top it off with a cocktail umbrella. Put up tiki lamps, hand out leis to guests, and let your son enjoy paradise for a day.
39. Baby Shark
Kids everywhere are obsessed with Pinkfong's popular hit "Baby Shark" which hit a total of 7+ billion views on Youtube. Surprise your guests with "FIN-tastic" decorations such as baby shark-themed napkins, baby shark-themed balloons, and underwater-themed streamers. And, who can forget the Baby shark family round cakes as you sing and dance to the song singing their names? Perfect for fun underwater excitement on your little one's big day!
40. Paw Patrol
Everyone loves puppies and what better way to express that with a Paw Patrol party-themed birthday. The hit TV show is a perfect idea for a baby boy's first birthday with amazing displays and decorations to really tie everything together!
A kid's favorite would be the bone-shaped rice crispy treats that are fun and easy to make. Instead of the old-fashioned party hats why not switch it up with Paw Patrol decorated plastic hard hats with doggy ears to express the fun. Run wild with Pawprints everywhere even on the "Pup-cakes" a fun design that surely will catch the little ones' eyes.
41. Sponge on the Run
The new Spongebob movie: Sponge on the Run (2020) brings him back to when he was just a little boy going to camp for the first time. Everyone knows who Spongebob is but this is an exciting new twist that your little boy and everyone attending will enjoy.
Stick with the camp-themed and add the underwater mix into things where you can give them the boy scouts uniform with bright shiny badges for all. Fill the room with underwater plants, faux coral reefs, seaweed, and more! Create a Spongebob cake which is perfect considering its rectangular shape and add some pretty patties on the side!
42. Elmo
Elmo has had a hold on kids for years! Why not let your son express his love and joy through an Elmo birthday party? With lots of ideas and characters involved, you can get the whole Sesame Street crew in the mix. Great educational fun that will for sure be fun for your little boy and all his friends to share.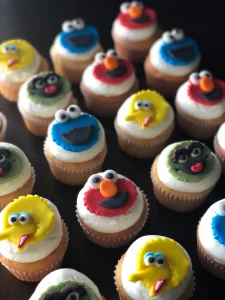 43. Boy and Girl Joint Birthday
In some cases, your baby boy's 1st birthday might also be your 1st girl's birthday as well! What better way to celebrate than with birthday theme that acknowledges the magic of a team? One idea for your twins' first birthday is a royal party. Dress up your Prince and Princess in elegant clothing and let the ball begin!
Another great theme for your babies is a Pirate and Mermaid-themed party, filled with seas and underwater fun!
Need one more idea? Try taking a trip to the wild, wild west with a cowboys/cowgirls themed birthday! Everyone gets to wear cowboy party hats with a hobby horse!
Conclusion
This list of baby boy 1st birthday party themes will hopefully get you inspired for your own baby boys' birthday. They only turn one once, so have fun with celebrating them, and don't forget that whatever theme cake you get them, you make sure you are rolling when they take their first bite. They will cherish it forever and when they look back to the memories and say my first birthday was this with a smile on their face!
Written by Mikela Berger; Contributors: Royce Legaspi, Erica Day